DTD had a pretty good deal going on wheels/tires last month. I bought a set of 15" MB Wheels alloys + General Altimax Artic mounted/balanced for < $437 shipped to my door (after rebates). I went with 205/60/15 because it's nearly identical height to my stock size (215/45/17). We have some rain + low 30s on the way this weekend, so I took this Holiday to put them on.
Here's what I started with:
OEM combo weighs: (don't tell wifey I borrowed the scale)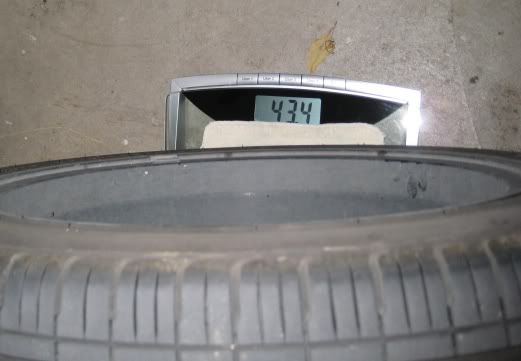 winter combo weighs:
1 on:
rear shot -- one of each:
Rear drums - booo! Free hub-centric rings = Yay!
Afters:
I bought tuner lugs from AAP (with 40% discount code). DTD wants $45 for theirs. I paid < half. I drove all afternoon on them. They ride better than OEM. They don't tramline at all (the KH16s are the worst tramlining tires I've ridden on). They have a low humm to them at speeds up to ~45 mph -- about what agressive AT tires sounds like. They are louder than the GY Silent Armors on my SUV. Take-off traction doesn't appear to be as good in the rain as OEM KH16s, but it may just spin easier because they are lighter.
Here's the weird part! We drove all afternoon: lots of 10-25 minute trips, and the TPMS light/chime didn't appear once. There are no sensors in the new set. The old set is in the garage, so it may reset once I drive in? I'm sure the light will come on one of these days. I'm not so much of a believer in TMPS anymore.