Ok I am not sure that this goes here. When I was hooking up my AEM to data log it I searched and searched and found nothing that really helped. So I spent a couple days messing with thing till I got it to work. So here is my Write up.
First get your fire wire cable and whack an end off (needs to be a 6 pin). Now you should have a Red, White, Green, Orange, Black and Blue.
Next go here
http://www.tricktuners.com/data_logging_info.htm
they have the pin out correct but the colors may be off I performed a continuity check to get the colors correct for the pins.
Once you have the color combination ground out all three Grounds (in my case it was black, orange and red). Then hook up the analog 1 wire (which is pin 3) from the fire wire to the white +5 wire from the AEM gauge.
as you can see I used the green wire from the fire wire cable to the white on the AEM gauge.
You now must go in to your X3 and set up your analog reading.
Plug in your fire wire cable and start the car
once you do that you will see the wide band registering on your X3.
This next portion is if you want to data log using Live Link Software.
Once you have that shut the car off open live link, hook up the Xcal to your laptop using a USB Cable, Turn the key two clicks (do not start car) Hit the little graph up in the top left corner and the system will connect to your car and open the select signals menu select your signals, make sure to select analog 1 so you can get your analog readings. After you made your selections hit ok.
You must select other PIDS or it wont read (at least I did)
Now you must go to the commands tab, select analog equations
Check the block behind Analog 1 EQ, use the drop down to select AEM then apply change, ok.
Now when you start the data logging session if you get this error just hit ok
Start the car you will be able to see your wide band registering in live link with the proper A/F reading.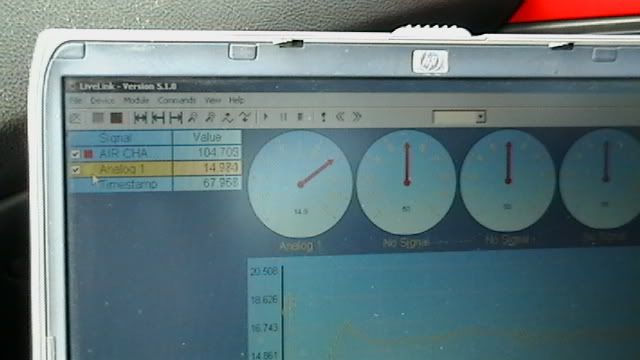 If you do not set the equation all you will see is a voltage reading. And your tuner needs the proper A/F reading for data logging. Hope this helps you guys out in hooking up your AEM UEGO. Now this may as well work with with other UEGO Gauges but I can not say since I have an AEM one.