I know few people were having issues with the AEM as well myself. I got mine to work today so i took a few notes for people.
Your gonna need a mini 9 din cable you can purchase off the focus sport website. Your cable will probably come in a package that looks like this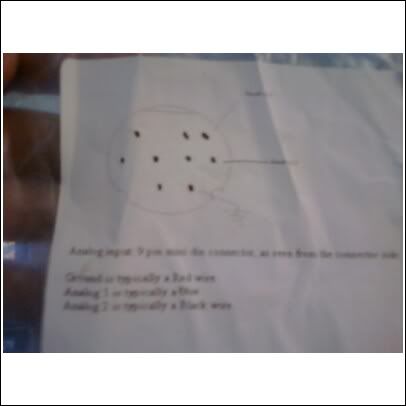 its kinda hard to read but you can make out the image ill type the rest for you. On the picture it gives you the wires that the cable is TYPICALLY (from top to bottom) Analog 2 is typically black wire, Analog 1 is typically blue, and Ground is typically red wire.
Even if you contact sct about this they will give you the same information.
ok with my findings the wires have changed. here some illistrations of what i found using a mulit meter. I would strongly suggest doing the same for anyone that may buy a cable.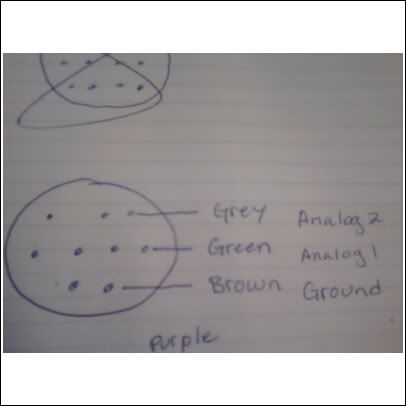 Above shows all the same pins as the last one but the color of the wires have changed so this means (top to bottom)
Analog 2 was grey
Analog 1 was green
ground was brown
(remember this is what i found in my cable this is probably why everything says "typically")
The rest of the pins read like so (bellow illistration)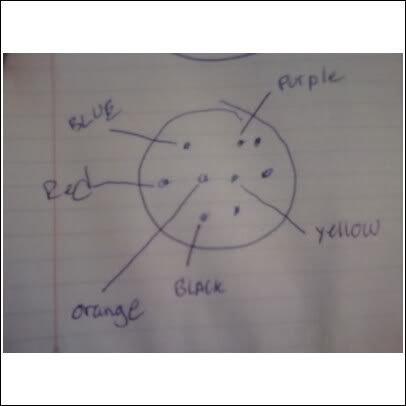 once you have figured out the wire colors that match up to the pins we need, (three pins shown on first two pictures) splice into them attaching your own wires that will be able to directly hook up to your AEM gauge wires.
white wire on the AEM gauge is the volt wire. You want to attach your analog 1 wire from your din nine to this wire. (again with a multi meter you can check your AEM gauge to make sure its reading anywhere between 0-5 volts when the car is running)
Next take the ground wire from your din nine cable and ground it somewhere on the car.
Your analog 2 wire will not be used.
Next this was the only other problem that i incountered was that the cable was not pluging into my xcal2 all the way. to fix this, i just trimed the plugs rubber srounding a little as so...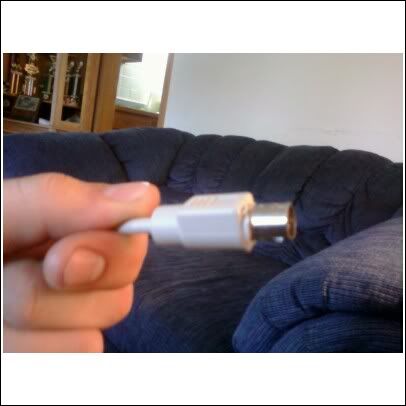 im not sure if it was just me but the pins had a hard time keeping a connection if i didnt modify this. (check it out before doing this it may not be totally nesscary)
Dont plug it in just yet plug in your xcal2 to your car link it up to the computer fire up livelink and follow all the same things you usually would but when your marking which configurations you need make sure you mark analog1 with it.
So now your graph page pops up NOW plug your din nine cable into your xcal2
select all your configurations when you check mark analog1, right click it next and there will be two options for you to select. Select configurations i believe its called click that one and a second box will pop up for you to enter your formula
enter the formula just as:
v*2+10
press ok
now in one of your gauges right click, go to signal and press analog 1 so you can watch the gauge once you start up the car to see if your actuall AEM gauge matches the gauge on the computer.
and there you go thats how i got my AEM gauge to datalog
really hopes this helps anyone out there that was having troubles.
-Zack-