You know.. I've read these forums for some time, and don't say alot.. so I figure I would for once contribute something useful. For all you DIY people out there I got the ticket for you when pegging your maf or getting too close for comfort. Diablo makes a nice product called the MAFia, but if you know anything about electronics all it is.. is a over-priced voltage divider. You can make your own for less than $5.00.. Won't have the pretty box with the devil on it.. but who gives a shit!
All you need is two resistors of the right spec based off this calculator:
http://www.globalspec.com/calculator...oltage-divider
Basically the way it works is by Ohm's law.. you are resisting current between the signal wire from the maf and the ground (negitive) and sending it back out to the ECU. By resisting current.. the voltage will drop! This is essentially Ohm's law.. sort of.. but thats all you really need to know for this application. This is not a clamp BTW.. A clamp cannot work for a MAF car.. this scales out the whole voltage range from 0 to 5 volts just like the MAFia.
You can also replace one of the resistors with a variable resistor.. aka a potentiometer.. and then you can adjust how much to scale the voltage out... Now it is the MAFia.. only a 100 and some bucks cheaper!
Here are some diagrams I drew up for everyone (crude but they work):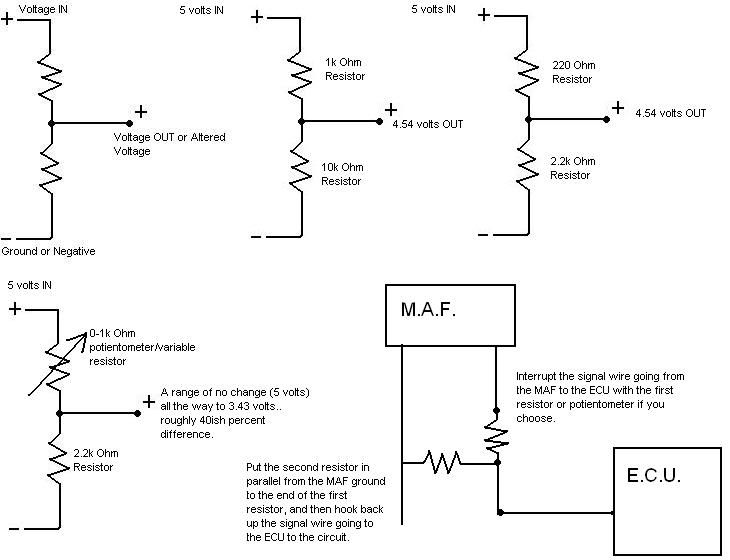 Hope you enjoy.. saved me money, and works great!.. Have any questions just post back.