This is my post over at
Focusst.org
for the first lightweight billet flywheel for the Focus ST.
Update:
Quote:
Originally Posted by David@Spec 9Aug2013
Me: Hey David gimmie some good news!!! Tell me you guys have a completed peice!

David: We do..but ready Monday. I am out of the office today, and eng is going over measurements one last time! Should send pics Mon and be ready to ship to you!!
Quote:
Originally Posted by David@Spec 7Aug2013
Only one mill operation left..should have some good news tomorrow.
Quote:
Originally Posted by David@Spec 30July2013
Material arrives Aug 3rd.!
Quote:
Originally Posted by David@Spec 29July2013
I am having engineering look at the ring gear lead-in chamfer closely, but I think we are good to proceed. I will let you know something tomorrow. Even if we decide to foundry a whole new ring gear, I can still utilize the OE gear until they come in.
Quote:
Originally Posted by David@Spec 24Jul13
I think they will sell big time, just like our RS units have overseas. We cannot hardly keep those sets in stock.

So this is what we're doing…we will be making a flywheel that interchanges with the stock type pressure plate AND a separate flywheel that accommodates a unit similar to the one we use in the RS. The factory pressure plate design cannot be built as stout, so the big power people will have their option and everyone else can have theirs. We will likely produce the flywheel in both steel and aluminum, but expect the aluminum to be the choice on the ST cars, since they're fwd.


[He continues and explains what he is talking about]

The stock pressure plate is not good enough for any real boost mods. Our pressure plate is so good it is worth getting the required flywheel. We will be making a flywheel to accommodate the stock type pressure plate just for those that do not need any more.
UPDATE:
Quote:
Originally Posted by David @ Spec 22JULY13
We had two events this weekend..MD and NJ, so we had 2 guys on the phones and they would not know much at all about that project,a dn were likely swamped. I just got back in town today and everything is in process. The ring gear was not one we use, but we actually already have a sample from the gear hobber that should be in Wednesday. Once confirmed, we can get your flywheel back in the mail and the material ordered to make the run. So yes, [next] Monday if the gear arrives like it is supposed to, and then it is all about sneaking them into the assembly schedule. I am pushing this through as quickly as possible..I want to see these units fly outa here asap. We are normally 4 weeks getting new units prototyped, but I am getting this one through in a fraction of that. If the ring gear had been on the shelf, we could have ordered material and put it on the schedule today.
This is a build log of sorts that will lead up to my reinstall of the flywheel and pressure plate assembly later next week. A video will be uploaded shortly showing the removal using inadequate tools leading up to using tools that have more "umph" so-to-speak.
USE CAUTION WHEN WORKING ON AN ELEVATED VEHICLE. CHOCK THE WHEELS, USE EXTRA JACK STANDS, USE AN ENGINE SUPPORT BAR, USE A FLOOR JACK AND 2X4 FOR EXTRA SUPPORT ON THE ENGINE, WEAR YOU EYE AND EAR PROTECTION, USE STURDY LEATHER GLOVES, WEAR LONG PANTS AND AT LEAST LEATHER BOOTS BUT STEEL TOE IS SAFER. FAILURE TO WORK SAFE MAY RESULT IN PROPERTY DAMAGE, SERIOUS BODILY INJURY, OR A VERY GROSS DEATH. NEVER WORK UNDER AN SUSPENDED LOAD ALONE, TRY TO HAVE ANOTHER PERSON WITH YOU. PLEASE FOLLOW ALL SAFETY PROCEDURES WHEN USING AIR TOOLS TO PREVENT DAMAGE TO YOU OR YOUR VEHICLE. IF YOU DONT HAVE THE RIGHT TOOL, STOP AND BUY/RENT/BORROW THE RIGHT ONE.
I didnt want to say anything about this until i had the flywheel off and ready to ship but, Spec has agreed to use my flywheel assembly to make a new production lightweight billet for the Focus ST!
Quote:
Originally Posted by David@Spec
We will take the flywheel and match up the ring gear, measure all the dimensions, record the weight, etc. The our cnc programmer and designers will use that info to draw a billet unit in steel and aluminum with different inertia properties for different usage types. If everything looks like it should, we can order material to produce the new flywheels as early as Tues. We are looking to produce this unit as quickly as possible, so we will not be dragging our feet.
The billet flywheels in a dual mass application like the ST normally produce 10-18 hp gains, in addition to rate of rev gains.
Quote:
Originally Posted by David@Spec
The stage 2, when used on a stock flywheel, should wear well up to about 350 ft lbs tq. Once we are able to get a flywheel sample in house, we will make a billet unit and likely be able to bump the st2 to 430 ft lbs.

SPECTech
Below is a video of the removal with some commentary from me and ocysP(mostly talking about specs and the manual we used to do this)
[video=youtube;upufY5KUbps]http://www.youtube.com/watch?v=upufY5KUbps&feature=youtu.be[/video]
Here as some images of the pressure plate and flywheel assembly. All of the work leading up to this was completed using ocysP's how-to on installing an LSD. This will eventually be completed to show the how to remove/install the clutch and flywheel assembly as there is not one up yet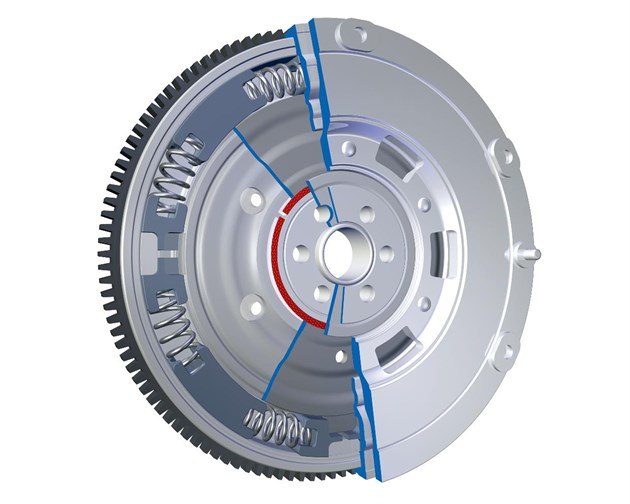 [video=youtube;l9TWGFazVwo]http://www.youtube.com/watch?v=l9TWGFazVwo[/video]