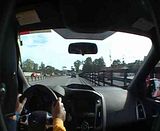 Well I'm back from the track. The weekend was the final SCCA PDX event the year. I had registered Dani for her fist event as a novice and I was doing my usual instructor duties. Unfortunately I had a pretty good cold this weekend so I wasn't feeling as sharp as normal. But I did manage to take the new ST on track for two seasons to see what it really could do.
Over the car is pretty dam good for a bone stock street car the suspension is quite firm surprisingly for the FWD car it quite lively, I was often able to get the back end to step out in the corners but in a very controllable manner with a bit of train braking. However if pushed in to the corner a bit hard it would understear.
The power is fantastic and very smooth delivery but it dues seam to run out of guts in the upper rpm 6000 to 7000, but that can be expected with the small turbo and all the power being in the middle.
What it needs, one the OEM brake pads where a bit of a let down, I was seeing 120 to 125 down the front straight going in to a tight right hander, after several laps the heat really started to affect to pads. I would have expected a bit more aggressive pad that could handle a little more abuse. Dani noted the same thing as a novice driver and her speeds where not nearly as quick as mine.
Second it needs a diff the Ediff electronic stuff is just not up to it. coming out of turn 2 the car was trying to spin the front tire, I could feel the car using the brake to control the wheel spin, needless to say power was not smooth and caused the car to push to the outside of the corner more then I would have liked. I'm sure a diff would have pulled the car out of the corner much quicker and not caused the understear.
Over all as a bone stock street car it performed well, I think upgrading the brake pads and instilling a diff and the car will be exceptional.
Sorry for the lack of sound in the video I must have not turned off the wind noise reducer, the sound was so bad I have to edit it out