I don't know why it has taken me so long to post up in this thread but here you go:
Name: Patrick
Location: Spring, TX
Age: 23 (24 in 3 weeks)
Car: 2007 Focus Sedan, Gold
I am currently a student at the Art Institute of Houston - North majoring in Interior Design. Before that I spent time at UH studying Consumer Science. And before that I wasted time at UHD studying whoknowswhat. I am a delivery driver for a local Chinese restaurant. I also recently started contract work as a blogger for an Interior Decorator in Houston.
The car:
She has two names - Goldilox and Bailey. I am not sure why. I just like both of them. I got her back in early 2010 after my Escape went out of commission. She stayed stock for a few months, until I bought a K&N short ram. Then a 12" JBL came along, then some wheels, then some tint, then a drop. You get the idea. Current mod list below:
"FranK&Nstein" SRI (K&N filter with Spectre MAF housing)
Exhaust resonator delete
KSport Kontrol Pro Coilovers
17x9 Cobra R replica wheels
205/40 Falken tires
35/20 tint
12" JBL sub w/ amp
Gold painted TB cover and battery cover
Plasti-dipped grill, badges, lower grill, rear diffuser
Plans for the future:
Dominant camber arms/plates
Moar low
HIDs w/ black housings
Tune
Now for some pix: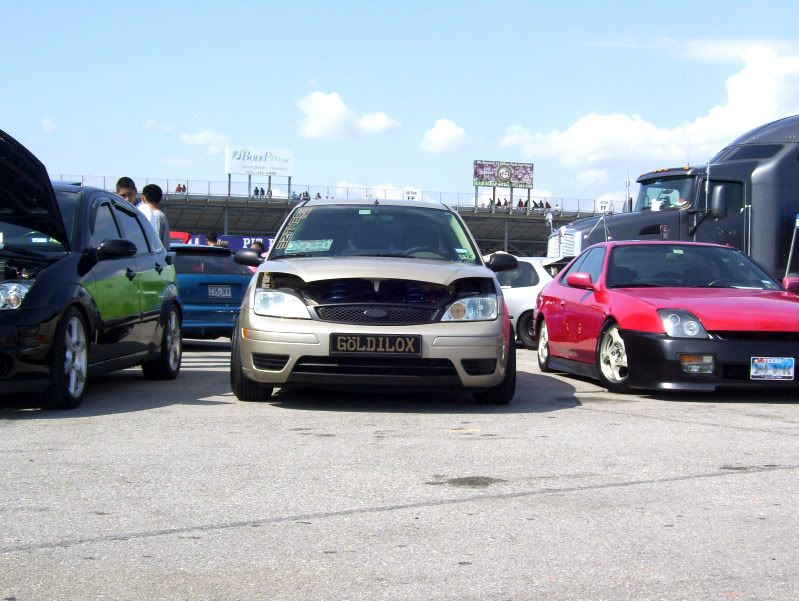 and me