*Daytona Beach 4 MEAT!
*
April 29th - May 1st
This is the official DAYTONA BEACH 4 MEET page.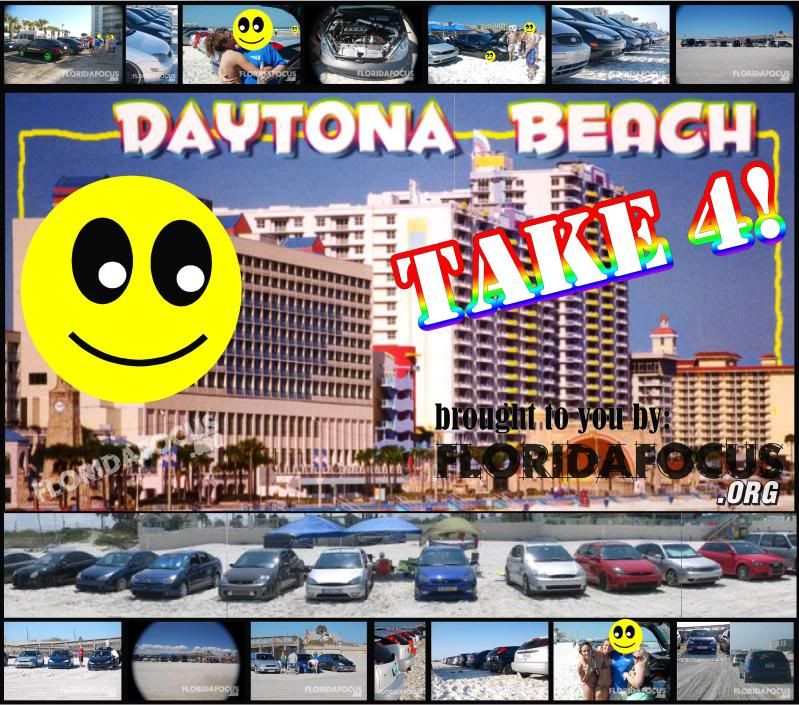 Now on to the info.
This is our 4th Daytona Beach Meet. If you don't know where or what Daytona is then you have a serious problem and you must attend. This is a manditory fun filled weekend. Fun is not only provided but very much encouraged. Smiles, hugs and kissing(as you may have seen from previous meet pics) will happen at a non stop rate. You will be overwhelmed and your butt will get tense with anticipation and glee. You're gonna play in the sand and swim in the deep blue sea. You're gonna stay up late and get up early out of pure excitement and for what you might ask? You're on Daytona Beach!
Things to bring:
- Pillows (if your sharing a room then bring extras)
- Towels (Same as above)
- Beach chairs. There is never enough. Walmart sells them for $10.
- Beach/ shade tent. We had 3 last time. We could use a couple more.
- Swim Shorts. Please don't forget it.
- A+ game (get lots of sleep the week before, you won't get much there)
- Camera(we need more pictures this time) And don't forget your SD card. Owen:no:
- Boogie board, floats, rafts or whatever.
- Sun glasses.
I will add more as it's suggested to me.
Things start off Friday with people getting there through out the day.Once most people are there we do dinner then hang out for the night. Saturday up and on the beach between 9-10am. Early, but we need to get spots together on the beach. So if you plan to drive up Saturday make sure you leave with enough time to get a spot. For lunch this year I'm thinking of maybe doing a beach buffet. I have a couple standard 4x4 tables that fold up that I could bring as I'm sure others do too. We could all by some different things and lay them out(chips, veggies etc...). After the beach it's showers(although last year the water got shut down so it was a swim in the pool) and getting ready for dinner and a night on the town. Sunday is lunch followed by farewells and hopefully pictures if the weather is ok.
And since everyone seemed to like this pic so much I'm gonna include in this year too.
NOTICE: If you have selected to go please post where you're coming from and if you plan to bring anyone with you.
Thanks for looking,
James/Yocrew
We want to get things organized a bit more than last year with rooming. So any info you need will be put here. If you want to get a room and are looking for people to split it with post up and I will add people to your room that you approve. We would like to get as many rooms as possible on the top floor. The big rooms with kitchen and living room are there. If we can get room next to each other that would be a plus. So I'm gonna ask that everyone reserving a room please get in contact with me and wait until we are ready to book together. I have already called the boardwalk in for pricing and availability. Info is below. If we get enough people we can get all 6 rooms and have the top floor to ourselves. There is a total of 3 Oceanfront rooms and 3 normal rooms that adjoin to them. I think we can cram everyone into these rooms. So let the room bidding begin. I'll add more as needed.
Boardwalk Inn & SuitesBoardwalk Inn & Suites
301 South Atlantic Avenue
Daytona Beach, FL 32118
(386) 253-8300
When you call use the code.
CODE: FLF
Prices are per night.
$126.65 $109.00(w/discount) - Ocean front view rooms (kitchen and living room).
$118.15 $99.00(w/discount) - Adjoining room to Ocean front(this is not the same room).
$92.65- Normal room not by us.
Please to the people booking a room try to book it by the end of next week. They are holding the rooms for us.
Just to be clear:
- If you are wanting or able to put the room in your name post that.
- If you want to crash with someone post that.
Whatever happens we need to figure this out by mid february latest. I don't wanna lose the rooms. The hotel will call me back tomorrow with final pricing discount if we get all 6 rooms upstairs top floor. This will be easier for the White Trash party saturday too. So lets party.
People getting a room:
James/Yocrew(me)
- Cryssy, Nicole, Phil, Coley, Rob
Also, if you have a facebook, please post the link and I can add you to the guest list there. That will give everyone here a better idea of who is going.