Do not pay for them new housings. If it is internally cracked around the o ring I have a solution for you all! I was personally tired of it so I found a cheap self fix that anyone with a few tools can take care of in about 30 minutes or less depending on your mechanical know how and experience.
What you need?
Go down to your local Advanced Auto or AutoZone or what ever your local parts store is and buy a $4 roll of rubber cork for making gaskets. Make sure it is the kind for sealing water or oil. Very inportant!
What to do?
Remove battery and battery box. Like 3 to 4 bolts total. At least on my foci.
Disconnect the 4 hoses on the thermostat housing. Remove the 3 bolts connecting the housing to the cyclinder head.
Now cut a piece or the rubber cork into a square and tuck the one side under the metal flap ( see picture )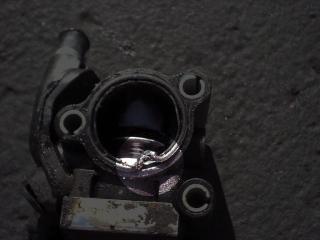 (at bottom of pic is the metal flap. the cork should slide right in which will hold it in place durring instal)
Now carefully cut an hole in the middle where the water will flow through. Does not need to be exact size of the opeinging. leave a little overlapping. then shove the bolts through the bolt holes backwards so that you have punctured them and made a opeing to get them back through when you reinstall.
Now just reinstall the housing and torc it to about 4lbs / 4 and a half pounds somewhere in there should do it. dont want to crack the external housing. reconnect all your hoses and put battery box and battery back in and you should be good to go... PS dont forget to replenish your coolant since much has been lost in this process, also good idea to have a catch pan under your car for all the spillage you will lose.
my car has been running fine. only scare was my thermostat was stuck close for about 30 minutes but finally started working again. being that im in florida i might just remove it completely but not right now. Save yourself the money and try this out. been holding up for me very well. anyquestions just email me at
david_kneece@falconmail.daytonastate.edu
I will be happy to answer