Let me start off by saying this was performed on an '02 Focus that was originally built 5/02. I believe there was a mid-year change to the AC and wiring sometime in 02. I used an '00 zetec wiring harness and the engine was an '03 zetec.
After the swap I went to fill my AC and it would just not fill. The switch for the AC compressor wouldn't turn on no matter what I tried. I figured I had some faulty piece of electronics and decided since it was winter I didn't need to work on it for a while.. Well its pretty hot out here now, and I finally got around to fixing it. I stumbled across a thread wrote by TyConway in which he said he was able to fix his AC with just a single wire!! Here is exactly how its done.
GUIDE
1. Locate the pressure switch for the AC in the rear portion of the engine bay. (See picture for help)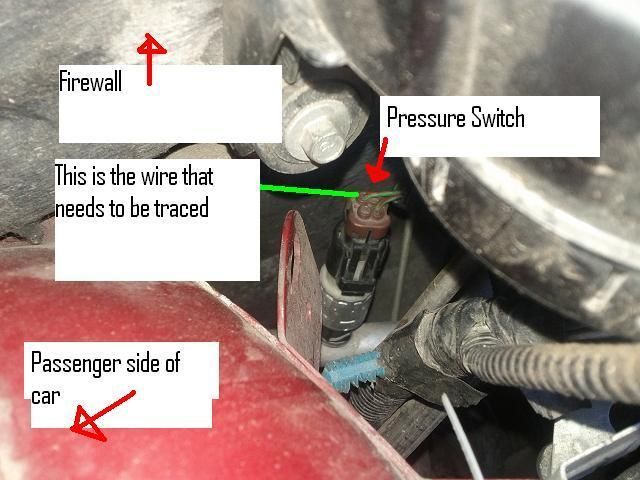 2. The pressure switch has 2 wires on it. One will show +12v when the car is running and you attempt to run the AC, the other shows nothing. You want the wire that shows nothing (It was the wire furthest away from the clip side on my car – but you probably want to double check this to make sure)
3. This wire must be traced back into the passenger cab. I did this by pulling out the kick panel that covers the ECU and began stabbing at the wires and checking for continuity. The wire is green with an orange stripe and is located on a harness that runs towards the back of the car. (See picture) -- Picture courtesy TyConway!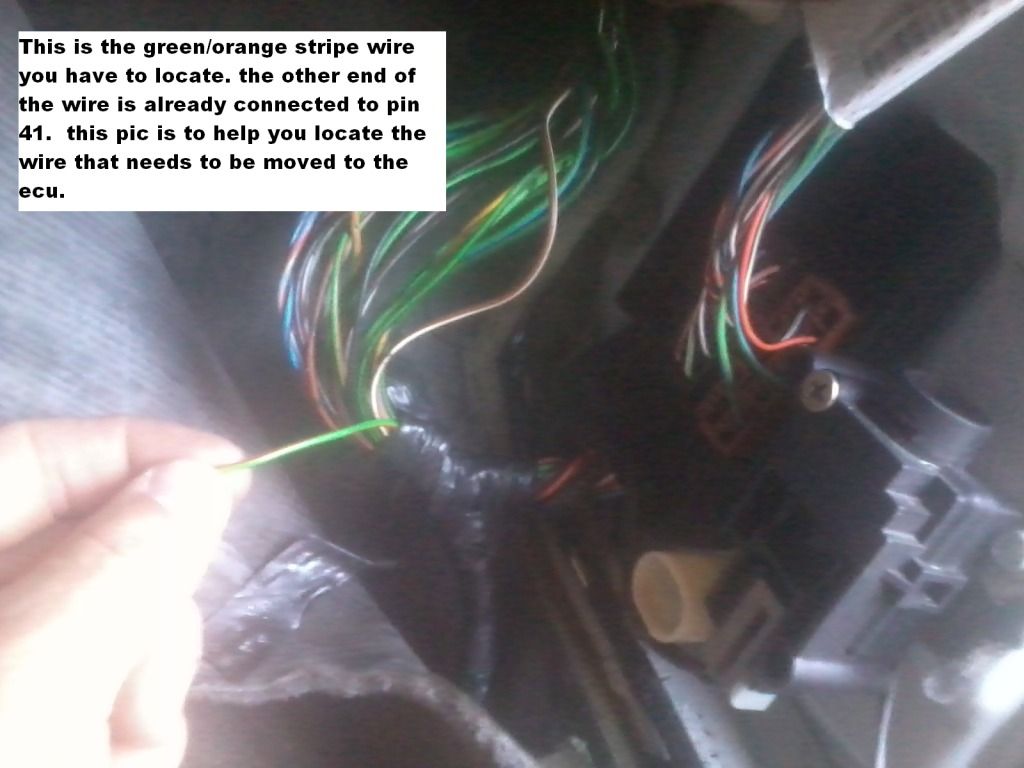 In this picture he is holding the "useless" side of the wire that, when connected, goes back to the pressure switch in the engine bay. The picture really just tells you what harness you need to look on to find this wire.
4. Locate pin 41 on the ECU, this is where you will splice the pressure switch wire into. Pin 41 is located towards the middle of the ECU plug near the bolt.
5. Splice together pin41 from the ECU and the pressure switch wire
6. That's it! Enjoy your AC!
If things are confusing please let me know and I'll try to clarify with pictures / additional text. :)