OK, so we need to have a good flowing cyl head. My "off the shelf" options are as follows.
Cosworth Race Head > $2500 - $3000 (NOT IN THE BUDGET)
Massive Approx $1500 (I might have done this, but I have brakes, wheels and tires to buy this year also)

FRPP CNC Head Approx $900 - Not a bad deal, but I need a better low cost option....
DIY (about $250 plus time and labor, see below)
OK, so first I need to build a flow bench. To do this right I'll need a calibrated flow meter, vacuum gauge, a blower fan that can flow at least 600CFM and some parts to fabricate connections.
On ebay I found a used MIL Spec airflow measurement device for about $100 Shipped.
Home Depot online shows a 3 speed stanley blower that moves over 1100 CFM for only $50
I have an accurate vaccum gauge/Mercury Manomometer from the carb balance kit I used on my motorcycle.
For about $100 I can buy the loose parts and hoses etc to contruct the fittings/connections to affix the blower, meter and vac gauge to the head for flow testing.
So since I'm crazy enough to take a daily driver and turn it into a full blown road racer, why are you shaking your head about my ideas about building a flow bench?
Anyway, if this project fails, I sell the meter on e-bay, but the blower in my garage to cool off hot engines when I need to, and toss the other parts. MY risk is about $150 and some time.
Then I go to "plan B" and cough up the cash (or plastic) to purchase the FRPP CNC ported 2.3L head for $900 anyway.....
So when the items above arrive, I'll begin consruction of the flow bench. (yes I'll make another thread for that) For now, I have done a basic port job on one of the cylinders in my donor cyl head.
Since the D23 head already flows well, and I have ro run a stock IM and TB, I'll only be looking for improvments to port shape and flow, not increasing the size of the ports.....
My Ideas for improvement, starting with intake ports: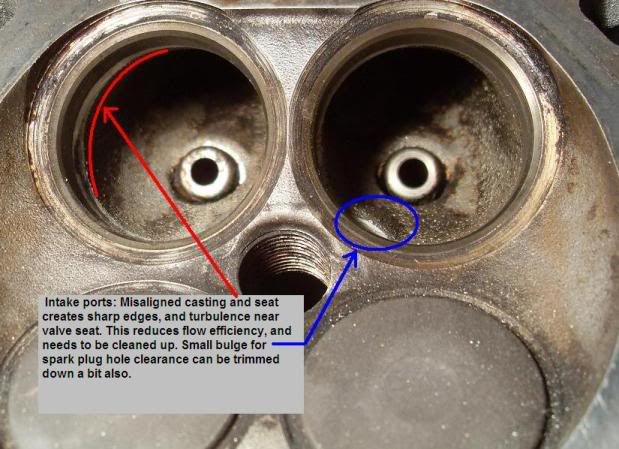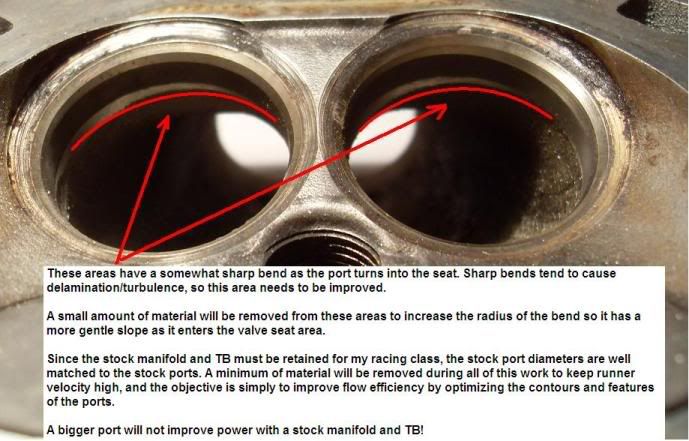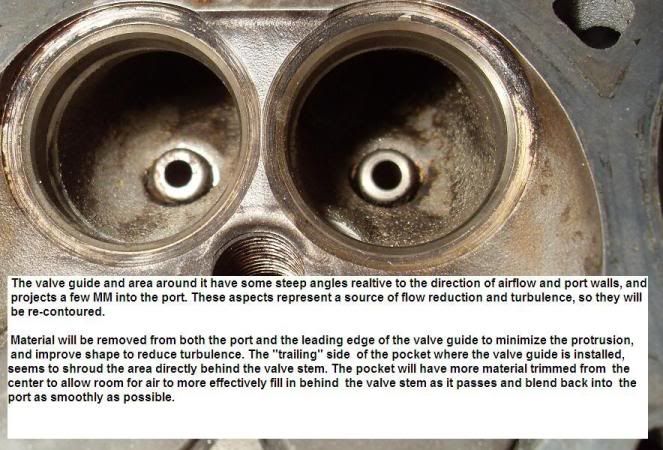 The Finished Intake Ports: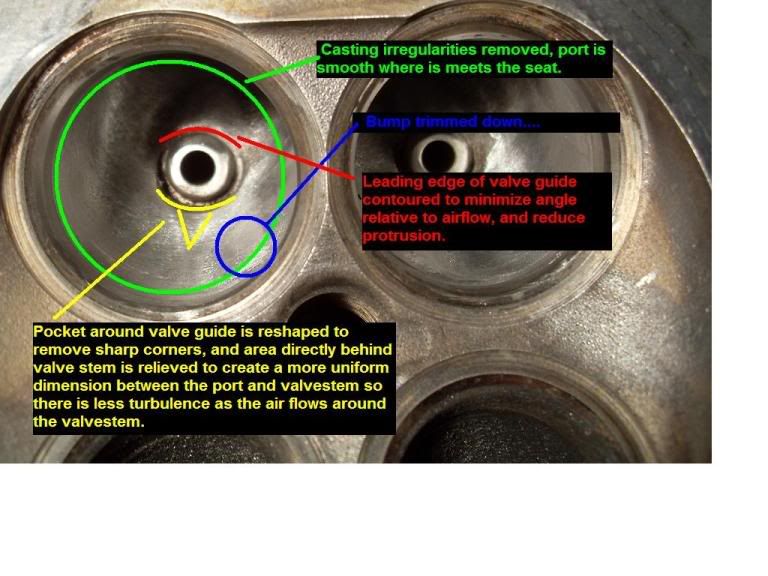 The exhaust ports are pretty much the same situation.
Before: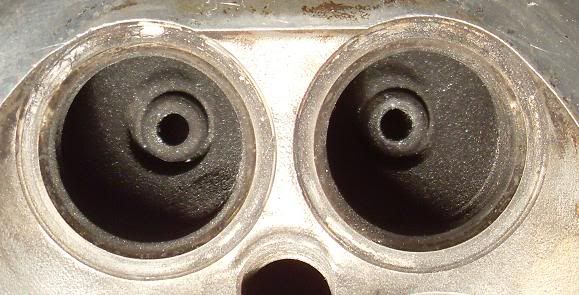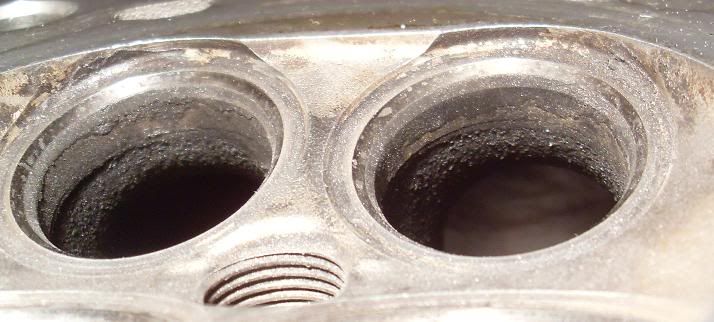 WIP: Working with a dremel tool using several different style bits, and at times my fingers and good old fashioned emery cloth....
The Finished Ports:
View of Intake And Exhaust: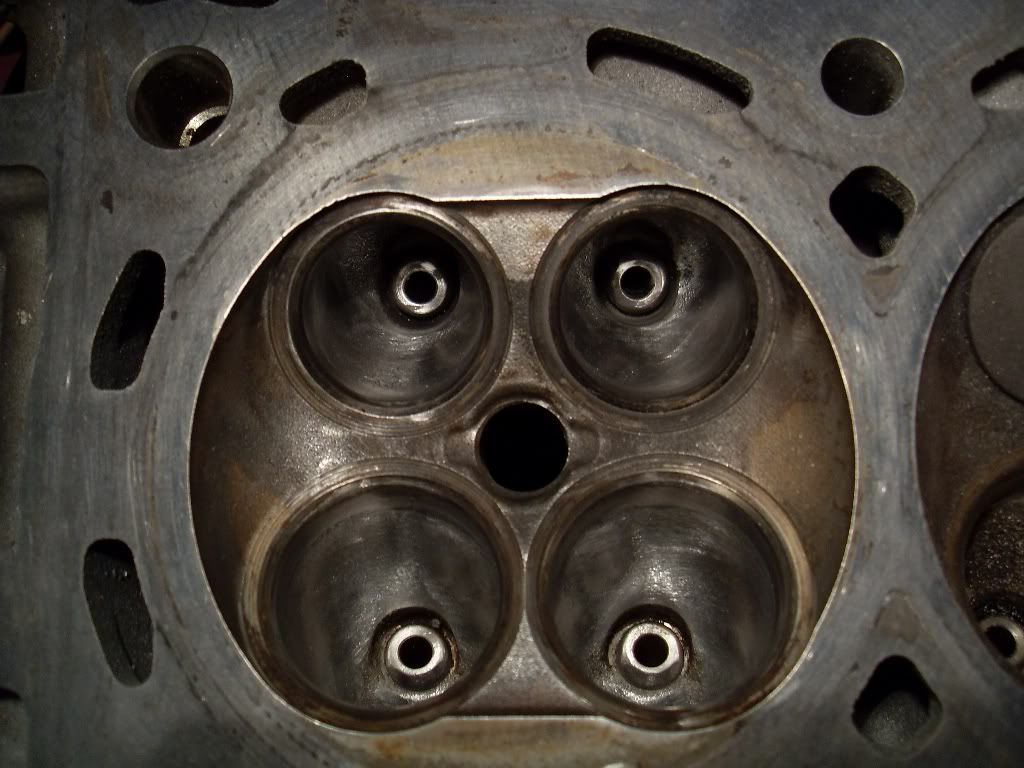 When the flow bench is done, I'll take some readings off the 3 stock, unmodified ports, and compare to my handy work here.
If I can get between 15% and 20% gains, I'm good to go. If not, I'll have another crack at the work on this cylinder, if it moves in the wrong direction on the second attempt, the project will get scrapped, and i'll place my order for the FRPP head.
BTW, regardless of which head gets used, I'll be running oversize (+1MM) valves, either from Crower, or Supertech.
After the final head is built/purchased, I'll have to finalize my engine simulations and select the custom cam profile to be built!