Quote:
Originally Posted by
Jgrove998
Cool. If your dumping the PCV to the ground i'd suggest venting the valve cover to the ground now as well since your not using the PCV valve anymore. The valve cover is the fresh air intake and the PCV dumps into the intake to be burnt off by the engine. Might be reverse flowing now causing you to be sucking oily air into the intake still and getting un-metered air after the MAF. Just a observation.
I didnt want to believe it but i took your advice and did it anyway. It sure was spitting fuel out the top and into the port on the CAI the spout was all white and milky looking and oil started to run into the TB.
Now that i think about it, as the air rushes past that vent from the CAI its creating a draw from that vent and that draw has to come from some where so its drawing it right from the bottom. wow
It reminds me of how waterbed pumps work, you use the faucet and run the water and it then inturn pulls the water from the bed as the water rushes past it creates a draw on the other end. Simple but it works
Well this is what i decided to do.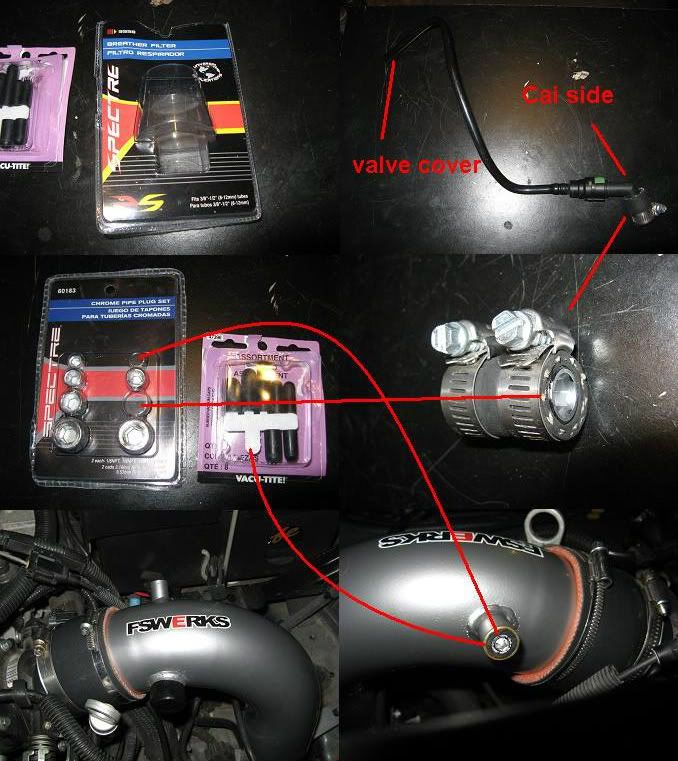 I got some vent plugs from auto zone comes on a tree of various sizes. Handy to have anyway. Then i got some allen screw plugs. I first tried to plug the hose that came with the FSWerks CAI that looked like shit. So i took it off and used one of the larger plugs and pushed it in halfway. Then i screwed the littlest allen screw into the hose but down past the lip. Then i just used a utility knife and cut the extra from the rubber. The plug was already a tight fit i had to lube it up a little to slip it in then screwed the allen screw in made it alot tighter.
The inlet side on the valve cover was pretty easy. I just pulled the end from the stock like the pre formed plastic tube and pushed the filter right on the right angle fitting and clamped it down.
Thanks for the help on that.