Alright - tonight I went shopping and only got as far as getting the front speakers installed, but I've got tomorrow...
Here is the parts pile -
4 - Infinita Kappa 6x8's
1200W Amp Install Kit
Dual Amp Kit
PAC SNI35 Line Output Converter
Crutchfield Install Harnesses
I got pretty good at taking the door panels off, after the initial fear I went after this with ease. I think I had each speaker in and out a few times to check fitment and make sure whatever I mounted the crossovers didn't move with the window :D
I did a little dance when the speakers fit perfectly in the openings, I wasn't 100% sure they would fit...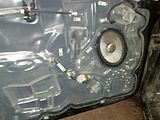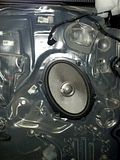 The line output converters up front were a piece of cake to install to the harnesses due to the screw clamp wiring style - sure would have been nice to use these in the rear, would have made hooking up the LOC seamless...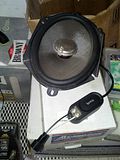 Tomorrow I'm going after the rears, which sound like ass, I never faded to the rear and listened to them... Are the fronts better than the rears or the same?
I usually have these speakers on a 100X4 amp, but the factory HU pushes these damn speakers pretty good! The sound difference is amazing - I'm excited to do the rears.
I've got this Rockford 10" HE2 DVC sub I'm going to toss in the back that I've got in a behind-the-seat style truck box. I'll toss 300W@12V at it and see how it does, the retarted Alpine amp I got at that time cuts out when the subs hits hard, I know my Rockford amps don't do that...
Well, more tomorrow! I ordered a 55W HID kit from DDM in preparation of my Ebay projector headlight install. After the stereo and lights, its time for tint and possibly a rear window SES valance or possibly look at some Rota Slip Stream's