A few months ago i wanted to upgrade the stock speakers in my 07 SE i found a guy on craigslist with a set of Alpine and a set of CerwinVega then decided if i get a double din with DVD i may want the same speakers in the front as the back so i decided not to mismatch the front and the rear.
I found another guy selling a kenwood single din and 4 pioneer so i went with those insted since they were all 4 the same.
When i went to replace the spakers i noticed that some one who owned the car before me replaced the drivers door with one of the "shaker" componet drivers so thats why i have one. (i think they are the shaker componet drivers?) or premium speakers, mach?
Also i bought these 6X9 tweeter add on things from parts express it has a big plastic cross holding the tweeter to the speaker basket (middle speaker)
The 5 speakers i tested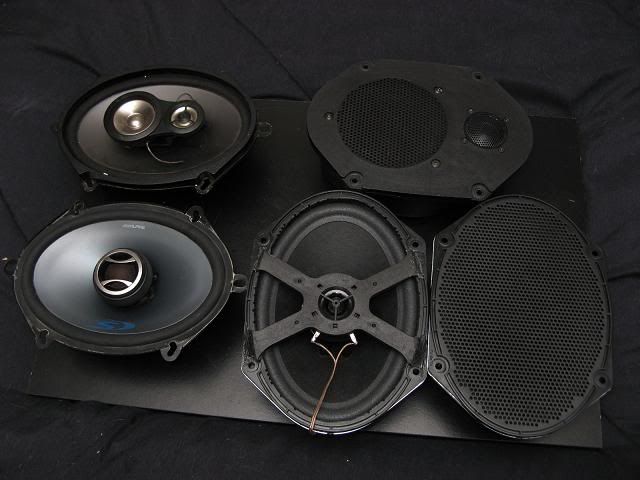 Here is the plot for all 5 speakers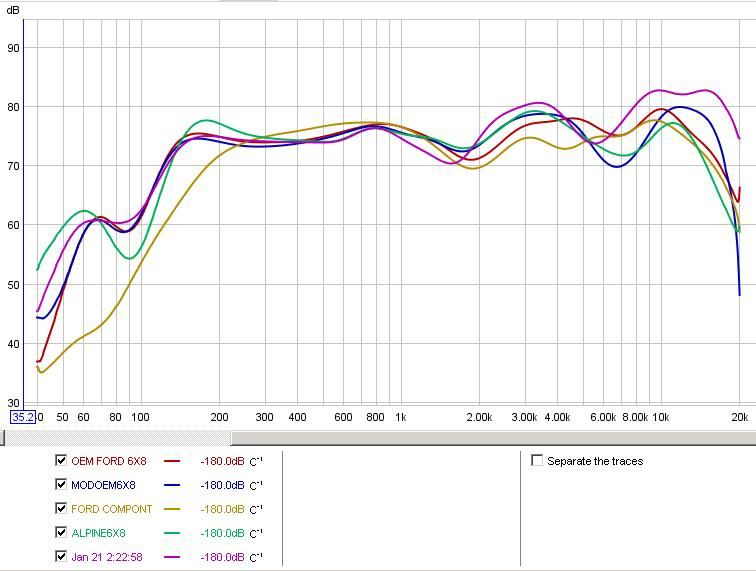 next to the componet speaker the oem has decent bass and good high end even though its just a "whizzer" type. Tlhe componet driver uses a seperate dome style tweeter yet it doesnt seem to be much better in the higher frequencies.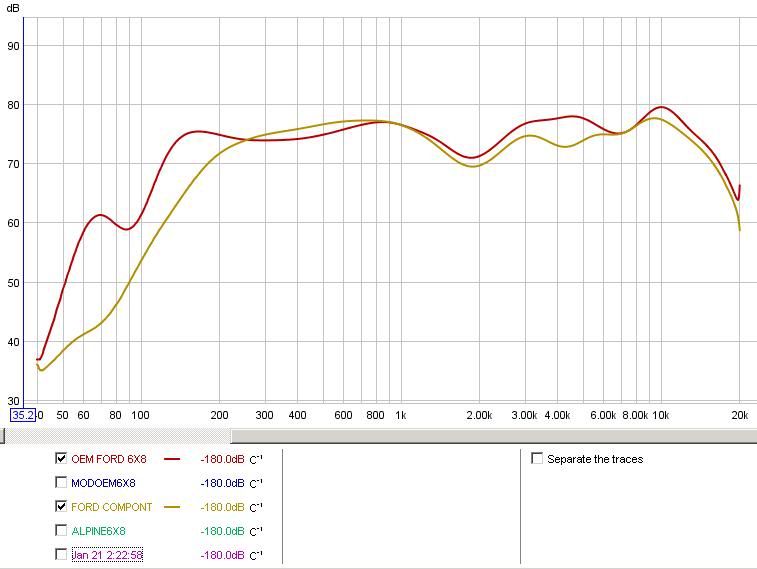 By adding the seperate "super tweeter" to the stock speaker it gained some more high frequencies but took a big dip between 4-10K
Whats the most interesting is how well the stockers do against the well known brands. The alpine seems to have a tad bit more bass around 100-200hz and seems to go lower then the stocker and vega between 40-60hz
The vega has the most top end but its a "3way" so i figured the 2 extra tweeters on the top give it more top end. compareed to the OEM speaker the Alpine will probobly sound warm. The vega brighter then all of them, not as much bass as i figured it would have.
What i found the most shocking was how flat the FORD componet driver is. It must have a crossover in it how the bass slopes. IMO it has the best curve of them all if you run a sub. The stockers are better then i figured they would be though. IMO i would keep the stock speakers and save money for a better head unit.