From here, you need to select the peak area...left-click to the left of the spike and right-click to the right of the spike...(see above pic).
Now we have to extract just the data we need, so we call up F4, Cut'n'Window...
Make sure Before peak in area...is selected, and enter 6000 in the 'Position/Count' window...this will get all relevant data...
Once that finishes, it'll load in the Amplitude Domain window...go ahead and select 'Amplt' in the top, and display this...
At this point, you can compare your tweeters output to the crossover...you can see where mine are a little weak from 7000 to 9000Hz...but from 2000 to 6000, it's a respectably flat response...
That's correct that!!
Now, we call up 'Phase Extraction', F2...
At this point, we just want to use 0Hz in both fields, and make sure minimum phase is selected...
Save the result to the next available series, in this case, series 4...
Now, so far, you may have noticed, we've used up 4 'Active Curves'...and we'll need a lot more! So now, we're going to save our work so far...
Save it in a seperate directory, i.e. 'Working'...
After you save, we want to 'Clear All Curves' with the double-trashcan icon...
You'll get confirmation dialogs for each curve you want to delete...
Confirm 'Yes' to all of them except Curve 1, our crossover we loaded back at the beginning...we want to keep this loaded for the work we do next.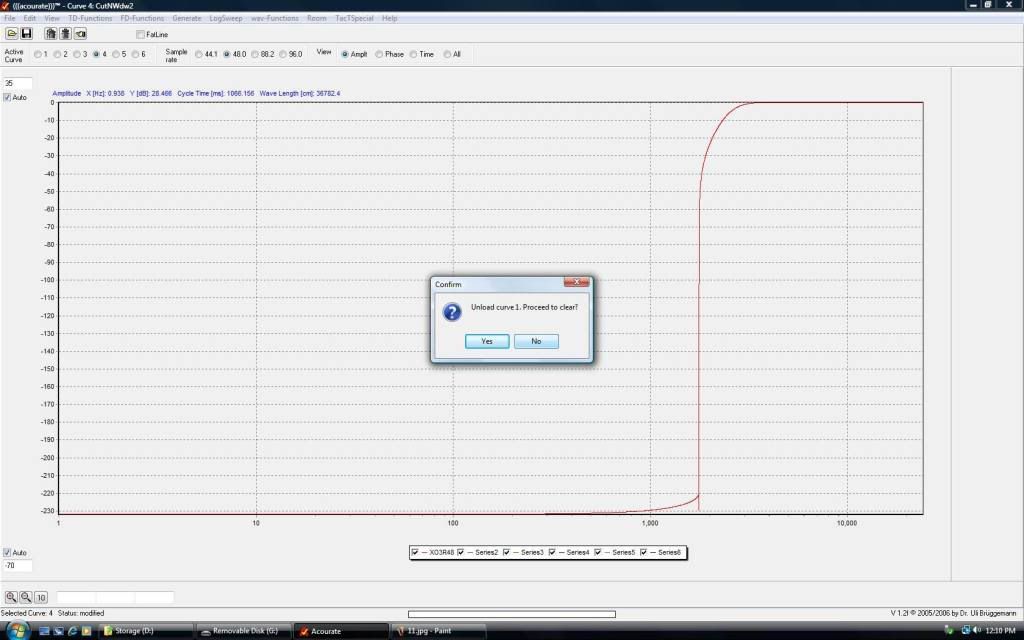 Now select Curve 2 (because we don't want to replace Curve 1!), and reload the work we just saved...
Now we're back to where we were, but now with 4 available curves left...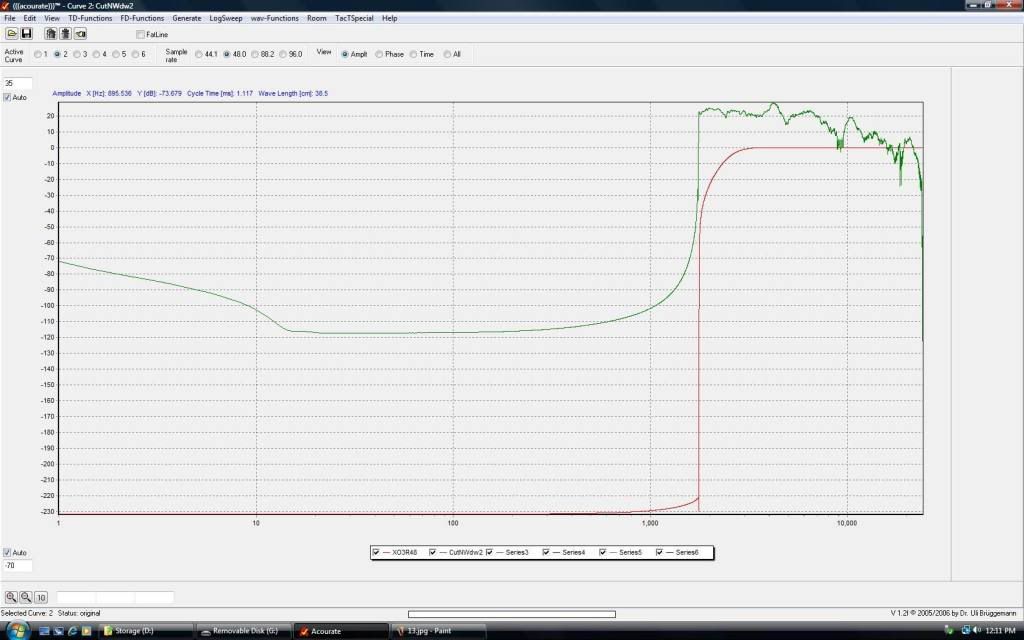 From here, we call up 'Frequency Dependant Windowing', F3. This is just a fancy term for frequency smoothing. We want to smooth out the excess data and use just the 'profile' response of the logsweep. This makes the Impluse Response a LOT easier on CPU cycles...
Select 'Both Sides' and enter in this data in the Peaks fields. You can experiment here with different figures, depending on how accurate you want your results to be...
When that completes, you'll see the smoothed response (brown line)...