ENTER THE RED TUBE OF HEART BREAK!!!
Here comes the notorious red hardener I keep talking about. Grab some 150 grit or close to, a new spatula, a good can of bondo ( no old shit here) some clean spreaders, and the green paper. The paper comes in all kinds of thickness but I use the pretty thick stuff. Contractors paper. Cut it into strips that will cover about 1 sq ft. I have boards I use for work areas as you can tell, so just wrap the paper around the board and tape the other side. This gives you a nice clean surface to mix on. This batch will be very important, it has to be perfectly mixed. No dust in it, no air bubbles, nothing, smooth or it won't turn out that way.
I choose the green so it would add nice picture contrast to the red bondo.
The #2 spreader from Bondo is shown here. Get a glob of bondo on your paper about the same size as the spreader and half an inch thick. then lay out a 1" thick line of hardener.
Start mixing, remember to scoop-swirl 360* then scrape swirl-repeat starting at scoop-swirl. NO AIR BUBBLES!! And you want it to be the color of the spreader. Darker red= less work time / 1/2 the cure time__lighter red = more work time 2X the cure time. So be careful. Getting ti the same color will give you about 5 minutes once uniform in color.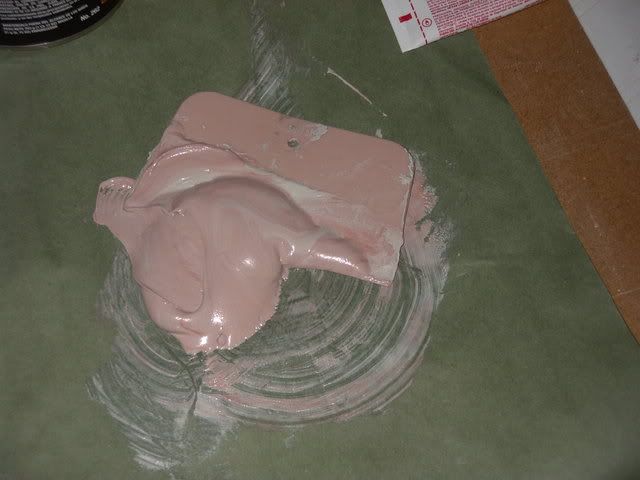 Yup, you guessed it, "squilly will mix that hot" start at the edge and get a good layer on there all the way to the other layer. I know at this point people are like, "damn, thats a lot of bondo; gonna be heavy" NOT TRUE. I sand so much off you could never tell how much went on originally.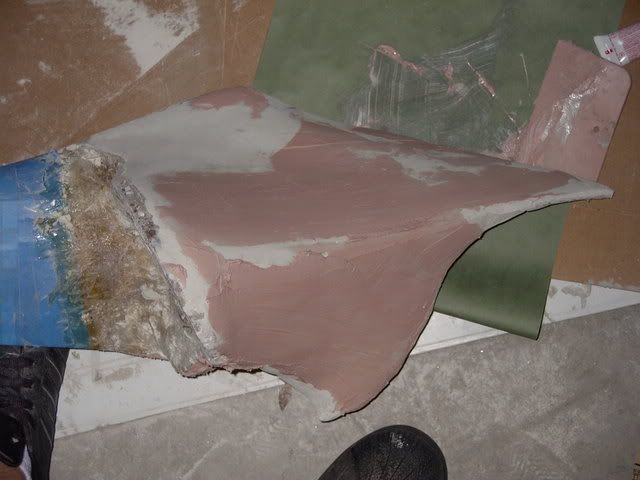 Again, even with the new color, dump the "oh shit" bondo into large gaps and holes , press it in and set it down, you can't work it any more now.