Rick I just did this today and it was surprisingly easy once you get it straight in your head how to do it. The car sounds SO MUCH BETTER with real bass. The easiest way to clarify this is by looking at this picture: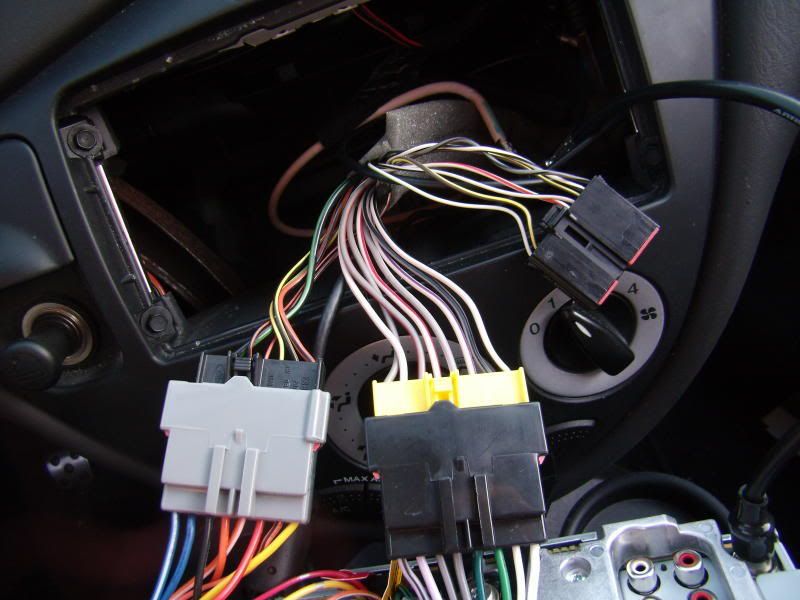 First off, the wiring plug on the far right is the one that controls the sub+amp and steering wheel controls, and the one you mostly need to deal with. The 2 wires at the far right end of the plug that are kind of intertwined are the preamp output positive and negative wires. These are the ones that need to get spliced with the RCA wires as illustrated elsewhere in the thread, and the normal RCA plug goes into either the left or right rear output plug on the back of the head unit.
The fifth wire from the right end of the same harness is the amp on wire, it's white and red. You need to bridge a wire from that all the way over to one of the blue wires on the opposite side of the screen, the far left harness lower plug. Mine was the left most wire and was labeled as amp on or something to that effect, but I remember mine being solid blue as opposed to the blue/white you see above. "Amp on" was printed directly on the wire. If you wanted to use a resistor as described by Matt, it would go into the wire bridging the two amp on wires, but I skipped it and don't really hear any "pop" when the car is turned on, so I don't know what benefit there would be in putting a resistor inline. Also this bridging wire is where you could use a spade type connector as illustrated above so it will all come apart cleanly, but I just used a single wire. I can always put a spade connection in later. If your deck has a menu for adjusting separate sub volume then you don't need to worry about the crossover stuff mentioned above.
I didn't take any pictures, but I did make a crude photoshop illustration of all this using the above picture and can send it to you if you want it. It's got helpful arrows and whatnot. This thread was helpful and concise also
2004 Kdc-x679
but disregard what he says about the yellow/brown wire. The RCA wires need to go to the preamp output + / - wires and they are white/black and gray/black, in that order.