Updated. List of current mods actually on the car and Im asking much less. Car MUST go!! Its going on ebay next or getting traded in, if no luck privately.
2003 Ford Focus ZX3 - 33,000km. I have kept car up to date on all maintenace and oil changes. Only driven in 1 winter (witch was this years). Only use's Premium (with the tune) and a full synthetic motor oil. Car has good driving record and has been in no accidents.
Please! If you have any questions at all feel free to email me at
jason@jasongrover.com
Asking $14,000 USD. Buyer is responsible for shipping etc. I am located in western Canada and am always up for road trips if need to be.
Perfect car for anyone wanting a nice focus with a few mods all ready done or any one wanting to build a show focus.
Rims will be going back on it summer. You will also get all stock parts to. Bumpers, door hinges, udp, rims you name it.
Focus RS/Collection front bumper with Hella Magic Module signals
ICC Tuning RS replica side skirts
98 euro Focus rear bumper
ST170 front grille
Focus RS/Collection spoiler
Hella Magic Module tail lights ( took off car for now)
Limmo window tinting
Custom painted valve cover
Ford Racing chrome valve cover shield
Focus SVT deagus cover
JT AutoStyle vertical doors
Custom painted interior
AutoMeter Oil Phantom Guage (not hooked up)
AutoMeter Volt Phantom Guage (not hooked up)
Alpine DV-300 deck (DVD, MP3, WMA, VCD, XM ready)
Rockford 400S amp (also thorw in a brand new Alpine V12 MRD-M301 amp to)
one 12" Alpine Type R sub
Custom stereo install in hatch (sunken floor, all carpeted)
Audiovox alarm with pager.
Magnaflow cat back exhaust
SCT Xcal2 with custom Focus Sport tune
Sprint Performance 2" progressive drop spring
Short ram intake
FC water and crank pullies
FS 4-1 Race header
FS flex pipe
VF Engineering rear motor mounts
FC 65mm throttle body
18x8 Team Dynamic rims in Monza style equipped with Conti Extreme Sport Contacts 215/35/18
Recent Photos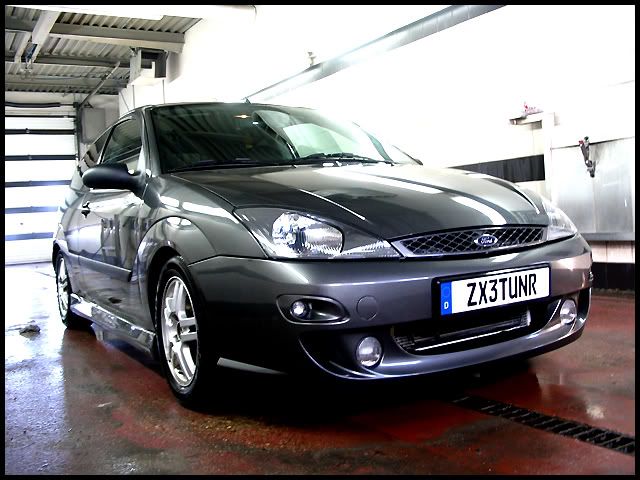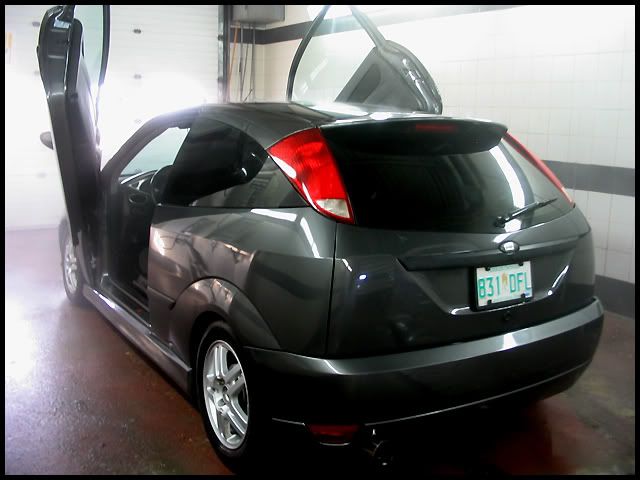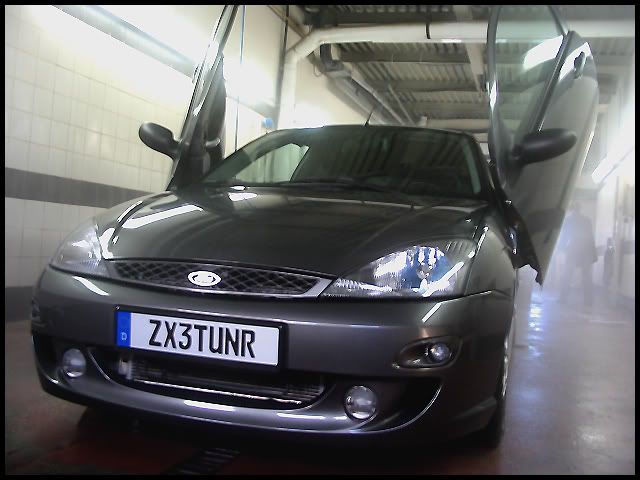 Older photos