NEW PRICE $2,800 for the entire kit

Talked to the shop today (2/25) and they will have the blower off this week. When I dropped the car off a few weeks ago I told them to take their time, as I didn't have it sold yet and they discount their labor for me when they can work on my vehicles between other, more time-constrained vehicle jobs. It's Automotive Consulting and Repair (ACAR) in Longview, TX. My family has been using them for decades. They aren't the cheapest but they are HONEST and take the time to do things right.
Location: East Texas
I now have all the OEM parts required to return to stock. The price for EVERYTHING in this system is
$2,800
plus shipping. The system is currently being professionally uninstalled from my SVT.
You don't see these very often, and you NEVER see a complete kit for sale. Even if you purchased this supercharger NEW you still had to get a tuner, injectors, MAF, etc.
Short of a clutch and exhaust, this comes with everything you need:
Procharger C1-B supercharger w/ 10lb pulley
CFM 5.7 Overdrive pulley
60lb injectors
SCT Livewire Custom Tuner with Knock Detection (I will unlock it after my car has the OEM parts back on and is flashed back to stock) also includes the firewire cable required to hook it to the AEM wideband
Diablo MAFia
AEM Wideband O2 gauge and matching UNUSED brand new AEM Wideband O2 sensor
Boost gague
Brand new Front Mount Intercooler with tons of unused piping and clamps
Brand new Blow Off Valve
Small bottle of Procharger oil (thought I would need it but both times I tried topping it off just-in-case it didn't need any)
My car has
less than 45k miles
, so this system has less than that. I am the 3rd owner, the 1st owner had the Pcharger and all mods professionally installed and tuned.
This centrifugal blower is a blast to drive. Unlike turbo, there is virtually no lag and the perceived torque this thing produces amazes everyone who rides in it (or behind it).
Here is a pic of the FMIC, piping, BoV, and AEM wideband O2 sensor: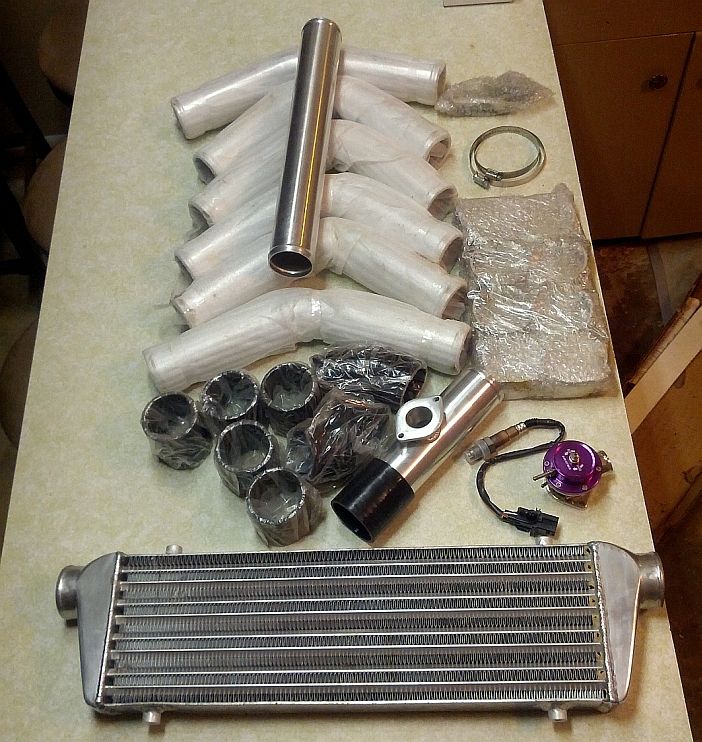 You can reach me immediately via email. My Gmail address is
AVredefined
First one with the cash and stock parts gets it. Thanks!