I have found a new car, so I am looking to sell my zx3. Its been a great car for the last few years, and I'm going to miss her. Its definately a high mileage car, been driven mostly highway (20,000 last year). It just rolled over 190,000 miles yesterday.
The good:
Runs and drives well, with lots of new parts. Burns no oil between oil changes. Doesn't leak either.
Front brakes- Calipers, pads and rotors less than a year old
front sway bar links less than a year old
Rear brakes- shoes, hardware and wheel cylinders 6 months old
I got 35 mpg highway 2 weeks ago, compression is excellent (170 psi across all 4 cylinders 6 months ago)
Thermostat housing, and 180* thermostat installed 3 months ago.
Plugs and wires 9 months old.
Comes with 16" snowflake rims, which I'm personally bummed about cause they are my favorite focus rims. Tires are roughly 60% worn.
Interior is in decent shape, non smoker. Interior is fully functional
Power sun roof
MAC adjustable cam gears currently installed
Ford Racing Underdrive pulley
Alternator is 3 months old, along with belt and tensioner (all Ford parts)
Magnaflow 2.5" exhaust. I'm debating on leaving the svt header, orp and 2.5" flex on for additional cost. I know I can get 300 for these parts any day of the week.
The bad:
3rd gear grinds almost every time I shift into it. It's been doing this for 9 months, but still engages every gear, every time. The clutch feels great and doesnt slip at ALL. I will include a used transmission (70,000 miles on it) and a clutch with 3,000 miles on it. used trans does not grind any gears, I know the previous owner personally.
The trans shifter cables are worn out, so they have previously fallen off shift tower once or twice while driving it hard. If you drive it normal, its not a problem. I'd replace these when the used trans goes in. If they fall off, you can slide them back on without removing anything.
Driver's mirror got busted off by a young lady. being the second broken mirror in the last year, I haven't had motivation to get a new one yet. I might before the car sells.
Passenger door only opens from inside, I think I have to reattach the inner workings or lubricate. I might do this before it sells.
Rear wheel bearings have gone out a few times, because I didn't use Ford drums and bearings. They are currently making noise, but have no play. This is a relatively cheap and easy fix. I might do this before it sells.
Left front lower ball joint has some play, but I've been driving on it for a year now without issue. Tracks straight, no adverse tire wear.
Hood is dented near the right front headlight. Some rust developed near right rear quarter, so I sanded and painted it. It could look better.
Koni adjustables are leaking, will need new struts and shocks whenever. Still handles and rides well for a lowered car. Not uncomfortable!
I'm looking for 2,500 OBRO, Remember I'm including a second trans and clutch.
PM me if interested. Located in Royal Oak, MI
Matt
These wheels are no longer on the car, but this is how it still looks otherwise. pic is a few months old.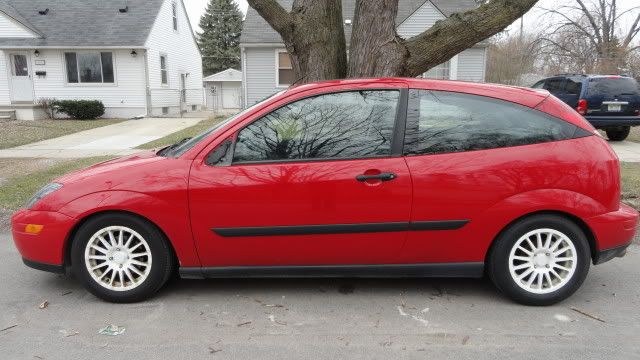 Posted via FF Mobile