Seller: Bennyfocus
Location: Lock Haven Pa 17745
Contact: Pm or
benconfer@hotmail.com
Hope these thumbnails are ok for the new post rules since they are small.
Please add 3% if using paypal or if you want local pickup ok.
I have an entire grey interior if anything is needed also only things i need to keep are radio and instrument cluster, everything else PM and I will let you know if i have it.
Have 4 Eibach 25mm wheel spacers for 4x108.. just paid $305 shipped for them ran them for about 4k miles would like to get $220 shipped.
42lb Ford Green Top fuel injectors qty:4 $120 Shipped
Focus Central 2000 to 2002.5 short throw shifter just the shifter bought it on clearance from CFM no knob no reverse lockout.
Works good no flaws just way to short for me. Heard before its one of the shortest on the market. I Just paid 59 for it plus shipping from CFM I will sell it for $50 Shipped in 48 states.
Focus Central Header 4-2-1 Tri-Y $Sold$ thanks
Focus Central Throttle Body 65mm Manual Zetec w/ tps. $Sold$ thanks
2000 Intake Manifold $25 + Ship ?
2 broken ports not sure if its worth anything to any of you or not. I was going to plastic weld the ports shut tap it and run a vac distribution block.
AEM Short Ram Intake $75 + Ship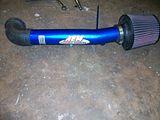 Scremin Demon Coil & LiveWires $75 + Ship
Good shape only removed because I went to a COP setup.
Also have 4 stock 15in wheels with like new studded winterforce tires
205-60-15 for sale in the wheels and tires section.