2) Required Information:
b. Hagerstown, MD 21742
c. All prices are negotiable and i am up for trades.
e. Sean Crammer
f.
seancrammer@gmail.com
<--(my paypal) or text/call 3019929397
SVT Intake Manifold Couplers:
$15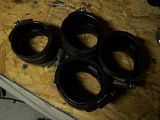 Nothing Special Here. These are the couplers that attach the 2 pieces of the SVT Dual Stage Intake Manifold. 80K miles
Rear wiper arm for all hatchbacks:
$25
Nothing special here either. OEM rear wiper arm for all hatchbacks.
--Sorry, no pic. Item is already packaged--
OEM Amber Side Markers:
$8
Just plain jane amber side markers. Nearly brand new, only on the car for a week.
--Sorry, no pic. Item is already packaged--
CUSTOM Stainless Steel Shift Knob:
$50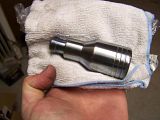 This Shift knob was custom made by WC Lathe Works. It wieghs over 1 pound!! The knob fits on the SVT just like the OEM piece it is threaded and has the ridge for the shift boot to attach to it. My hand is a bit too large for this knob. This is why i have to sell it. For any chick who drives a SVT, this is for you. For that matter, anyone with a small hand will love this piece.
The knob has been heated to acheive that burnt blue tint.
Speedhut SVT AUX gauge overlay:
$20
I was one of the first people ever to have a custom set of aux gauges from speedhut. Me and 19 others signed up with speedhut to get these made. Unfortunately, they are no longer available to be customized. I suggest you already have a set of speedhut gauges if you want these. click on the thumbnail for a closer look. i cant remember if they are elglow or reverse glow. sorry.
SVT CAI upper portion:
$15
This is from an Ebay CAI. This only includes the upper portion. Its polished aluminum. Has a few surface scratches. Nothing that cant be polished out.
Lower Radiator Hose:
$15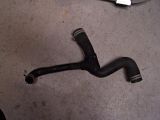 Nothing Special here, took it off to replace it with silicone. 80k miles.
Hoen Yellow H7 bulbs:
$25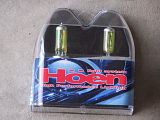 Genuine Hoen bulbs. These are H7's which will fit the Mach's highbeam as well as the ST170's lowbeams. They look and perform great. These bulbs were only on the car for a week. Some jackhole in a civic told me that they look real JDM. They were removed the next day.
Audiophile Amp:
$25
This is the amp that is used in the cars with the Audiophile subwoofer. i believe its 150RMS but dont quote me.
SVT Radio/HVAC Bezel:
$35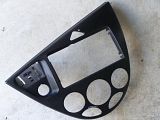 This piece was replaced with an EDM unit. Item comes as you see it. No ashtray, power port or hazard button. The black bezels only came in the SVTs.
Lebra Hood bras:
New: $40
Old: $20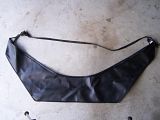 There are two hood bras here. The old one has about 8k miles on it. The new one hasnt even been unfolded from the box yet. These bras will fit all stock hoods from 99-04.
Nokya 9005 Foglights:
$30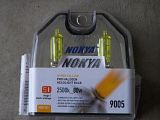 These bulbs have been trimmed to fit the SVT fog housings. They look great. They were on my car for about 3 months. They burned the LaminX cause of the high wattage.
SVT Lower honeycomb Grill:
$40
This is the lower grill that is on the SVT. There is a thread on here somewhere on here where someone hacked up this lower grill to replace the amber lights in the upper grill with plasticweld. This netted a complete honeycomb upper grill for the SVT. It looked great. Do a search on it. This would also be great as a replacement for your janky/busted lower grill.
--Sorry, no pic. Item is already packaged.
SVT Front Sway bar:
$50
This bar is 21mm. This size bar came stock on the SVTs as well as a few other foci. Do the research to find out if your current bar is smaller than this before you think your upgrading. This bar helps make the SVT the autoX monster that it is.
--Sorry, no pic. Item is already packaged.
I am up for trades here and there. One thing i dont need is wheels. So no trading wheels.
I WILL TRADE ITEMS FOR GENUINE EURO FENDERS!!!
Let me know if you dont like my prices, im willing to negotiate.