UPDATE! THEY ARE READY!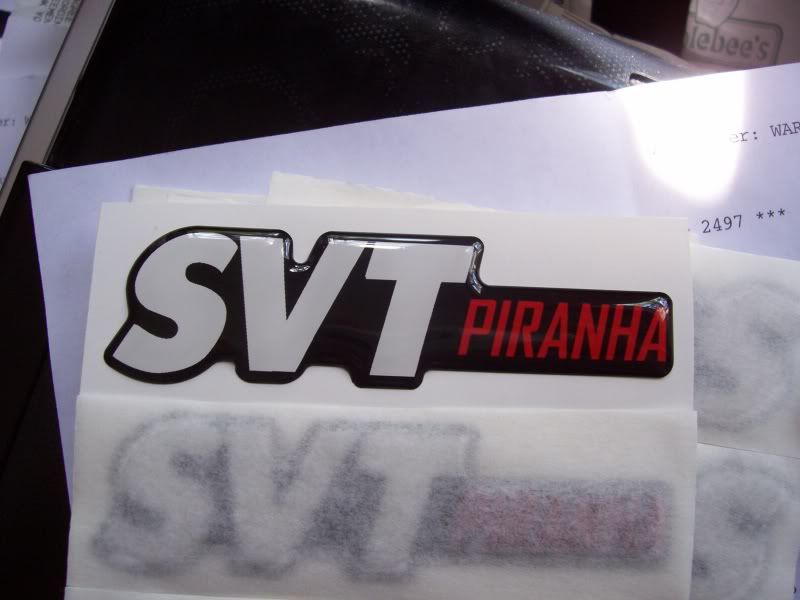 SVT PIRANHA BADGES:
Due to the interest level I am going to make an initial run of 50 badges.
They will be vinyl with a clear urethane bubble epoxy on them making them real badges.
Here is the design, it will be a black background with a white SVT and red PIRANHA lettering.

Prices will be $10 each shipped for the first one and $7 for each additional one.
Size is 1" tall by 3 5/8" wide.
A little history on the name "Piranha"
Quoted from user Peloton25:
"Andy Slankard was the Program Manager for the SVT Focus. He had a handful of names he was considering for the SVT Focus so that it would have a unique identifier ala Cobra & Lightning. There was even a poll here in the SVT HQ forum for choosing the car's name at one point in early 2001 I believe.
"Pirahna" was the chosen name for the car and Andy told Ford legal to secure it for the car's introduction at the 2001 Chicago Auto Show. Unfortunately, at the same time Pontiac was developing a concept they planned to show at the Chicago Auto Show that same year and they had already secured that name for their concept. Here's a shot of it:
Kinda looks like a Pirahna, doesn't it?
I had the opportunity to talk directly with Andy at the SVT Focus press intro and he relayed this story to me first hand. He said there just wasn't another name he thought would fit and that's why they ultimately ended up going without a special name for the car."
Please PM if you would like one and we'll trade info!!!