Sorry for the long post, but anyone interested might be able to read it all without falling asleep, maybe. This post is primarily to report a failure and to share the experience and some pictures. At the end of this novel, I have a few questions for anyone who has experienced similar. The burning questions are; has anyone else had this happen? And does anyone have an idea what/why this happened?
At 140K miles, I replaced my rear drum brake pads about 6 months ago. I used Centric brand pads. I did not replace the "limited use" "re-use up to 4 times" "torque to 175 ft lbs" wheel hub retaining nut. When I did the job, I used a torque wrench set at max 150ft lbs and then hand tightened it a tiny bit more to get it to (guessing) 175ft lbs. During this process, I did not turn the drum during torque. My looming wheel bearing/brake failure may have been caused by my failure to turn the wheel drum during the torque process.
Quote:
Originally Posted by
Bonesacked
Make sure to turn the drum counterclockwise as you tighten the nut.
Quote above located at:
Rear Brake Drum Torque Specifications - Bearing Problem
After a 20 mile return trip home last week, I smelled a wicked burning hot smell when I got out of the car. I found one of my rear wheel drums was almost fire Hot. The other side was normal hot. My first thought was "brake pads are locked up on a single wheel?" I later found out that the brake pads were somewhat locked up and stuck onto the drum, but I also found that my wheel bearing was damaged. I cannot be sure which of these two problems caused the other, but it is my guess that the wheel bearing failed first… and caused some vibration and/or heat… and maybe the vibration/heat caused the brake components and pads to expand or stick… or the auto adjuster or brake cylinder failed and the brake pads pushed onto the drum… all the way home… as you can see, I'm not sure what happened.
I jacked up the car and was able to turn the wheel, but it felt like someone was stepping on the brake pedal. I removed the wheel hub drum retaining nut and was not able to remove the drum; the brake pads were holding it on. I put the tire back on and pulled and kicked and screamed at it, still no luck. Pulled tire off and then found a ring broken away from the bearing (see picture #1, #2, #3). The broken bearing ring might have been broken and dislodged before or during the "put the tire back on and pulled and kicked and screamed at it" step shown above. The broken ring seems like nothing more than a "cap" for the bearing.
Pic #1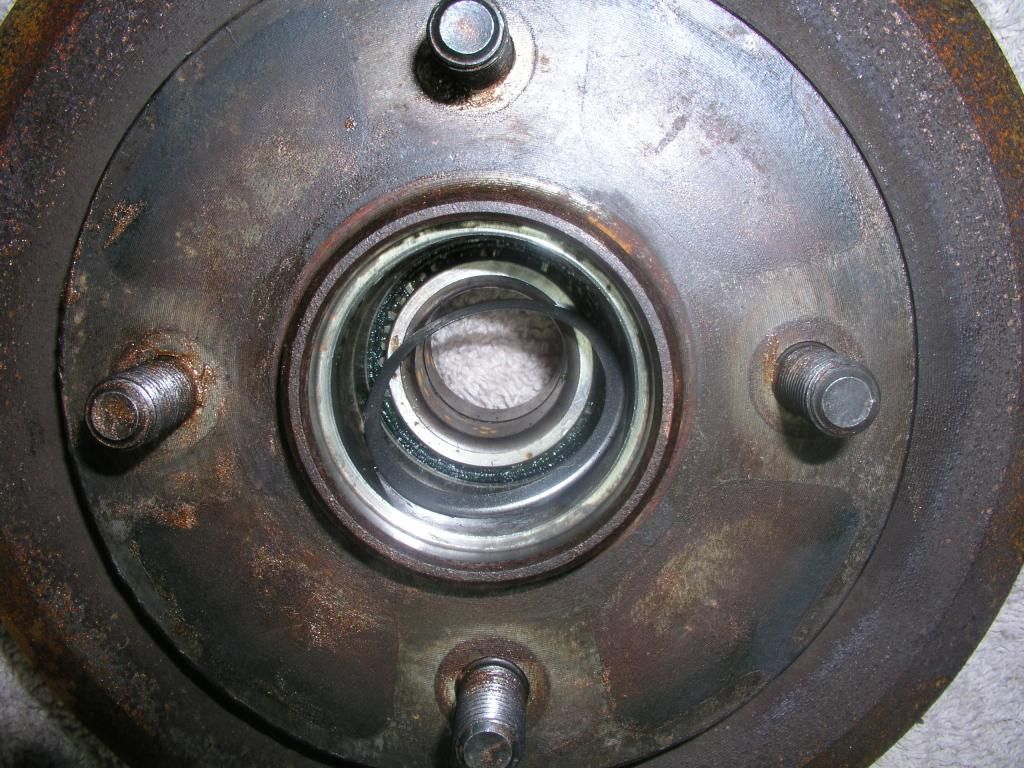 Pic#2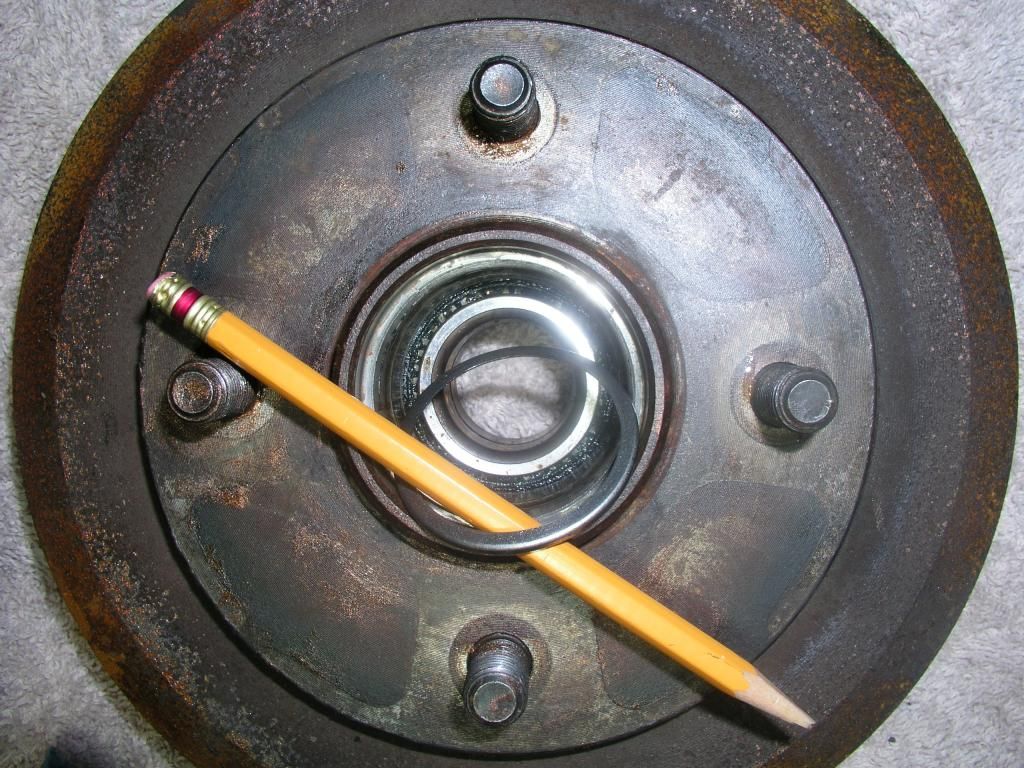 Pic#3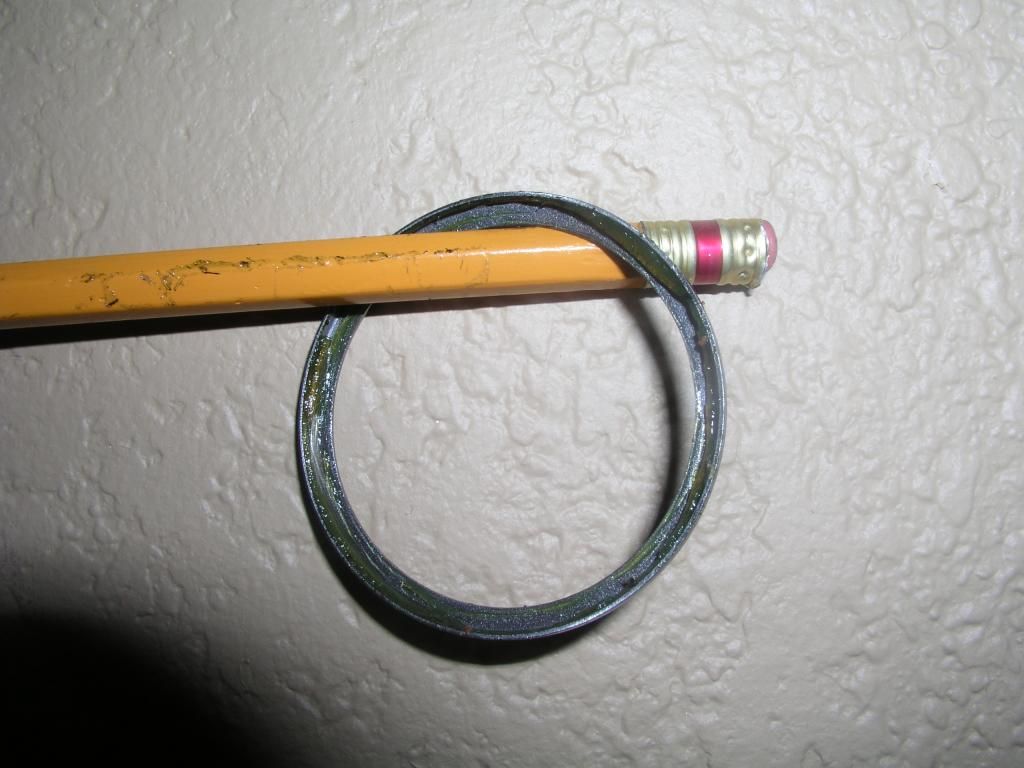 With the bearing ring/cap busted and removed, the ball bearings inside become visually exposed (see pic #4).
Pic#4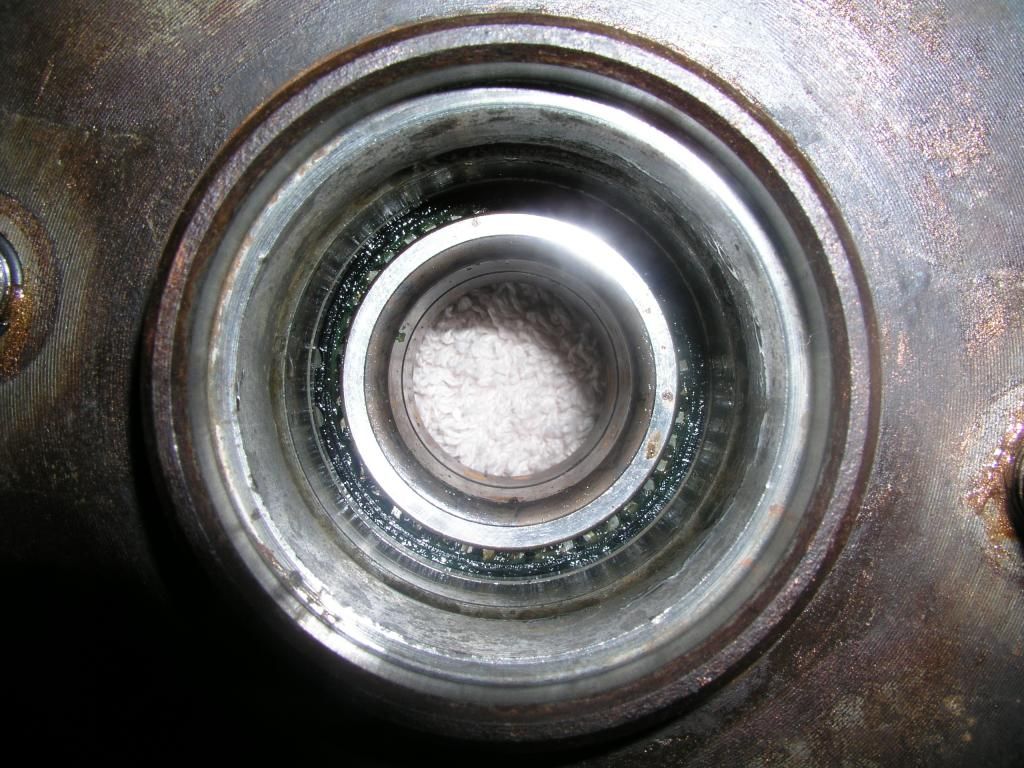 After LOTS of careful pulling and prying on the drum and back-plate, I was able to get the drum off. I lightly damaged my 6 month old-new brake pads in the process. I immediately decided to replace the brake pads with new ones.
I did an extensive visual inspection looking for a broken spring or anything wrong and found nothing. The auto adjuster wheels were a little gunked up (see pic #5) but after cleaning, it looked good.
Pic#5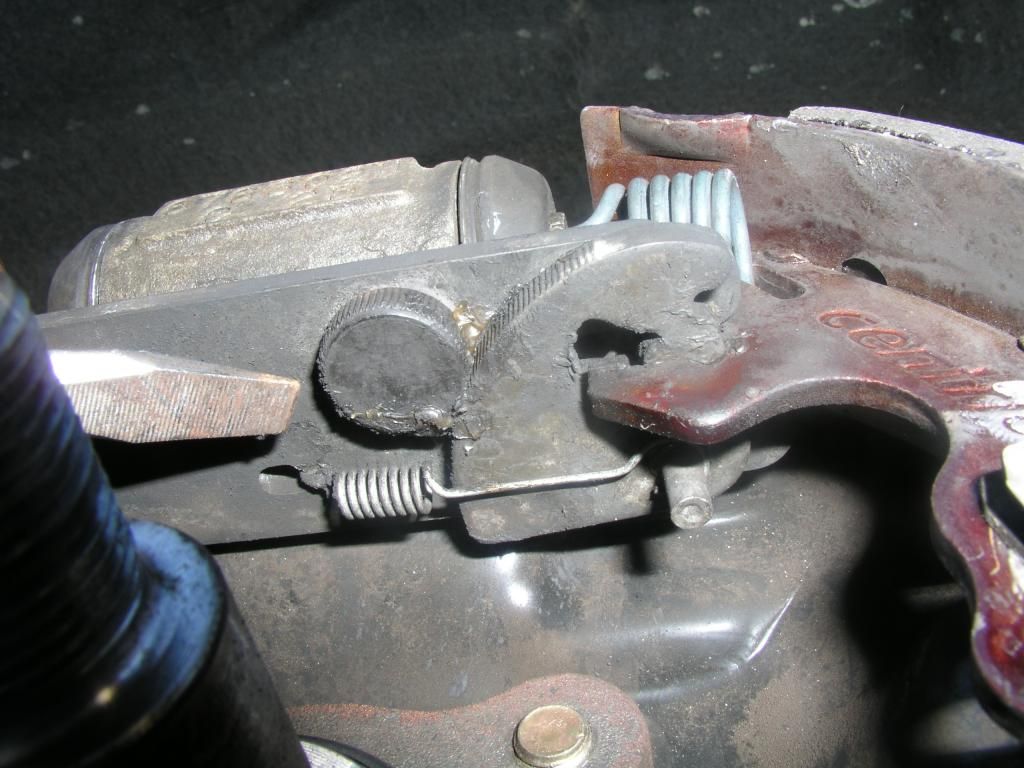 I was surprised that I found nothing wrong with theses brake parts. The brake drum also had no apparent damage, but did have a small Lip as part of normal wear. The wheel bearing seemed functional and was able to spin (by hand) and had no binding; it had a tiny bit of lateral "play" movement that seemed wrong; I tried to pull out the inner race, it had some play like it was going to come apart but I could not get it to fall apart or pull out. The external body of the bearing was firmly pressed into the drum = completely normal.
I went to Auto Zone and got a new drum (includes bearing) and brake pads (both Duralast brand). When I compared the old and new drum I saw a strange difference. Got online and learned that the difference was the new drum did not have an ABS Tone Ring (see pics #6 and #7).
Pic#6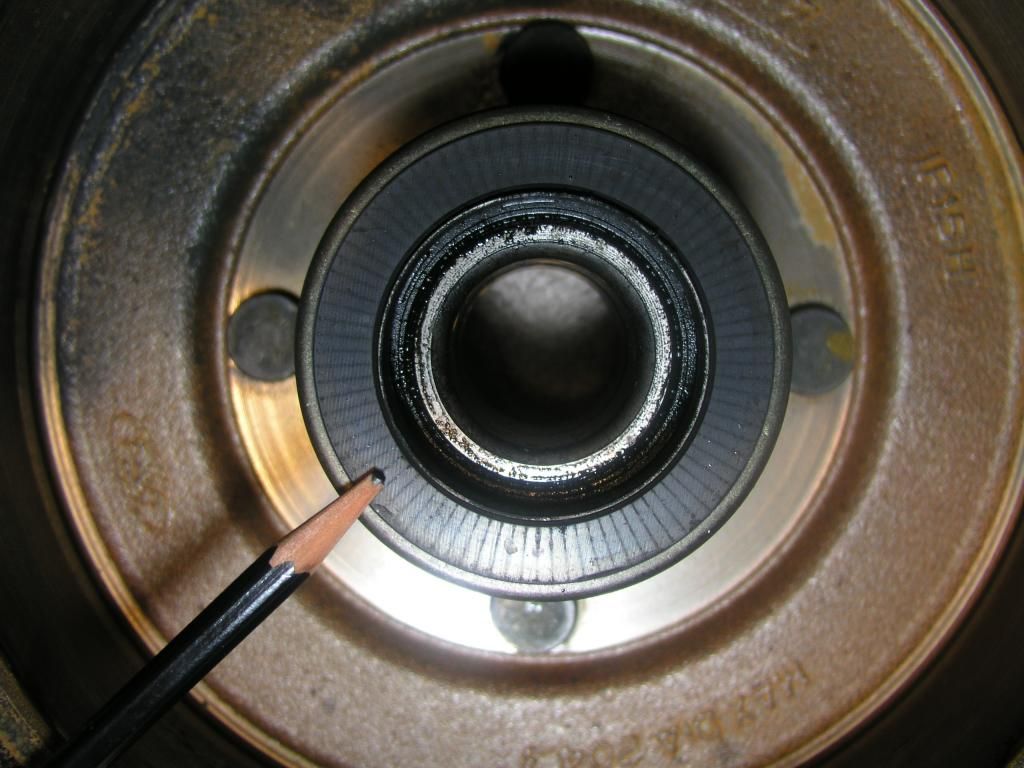 Pic#7 - Has no ABS tone ring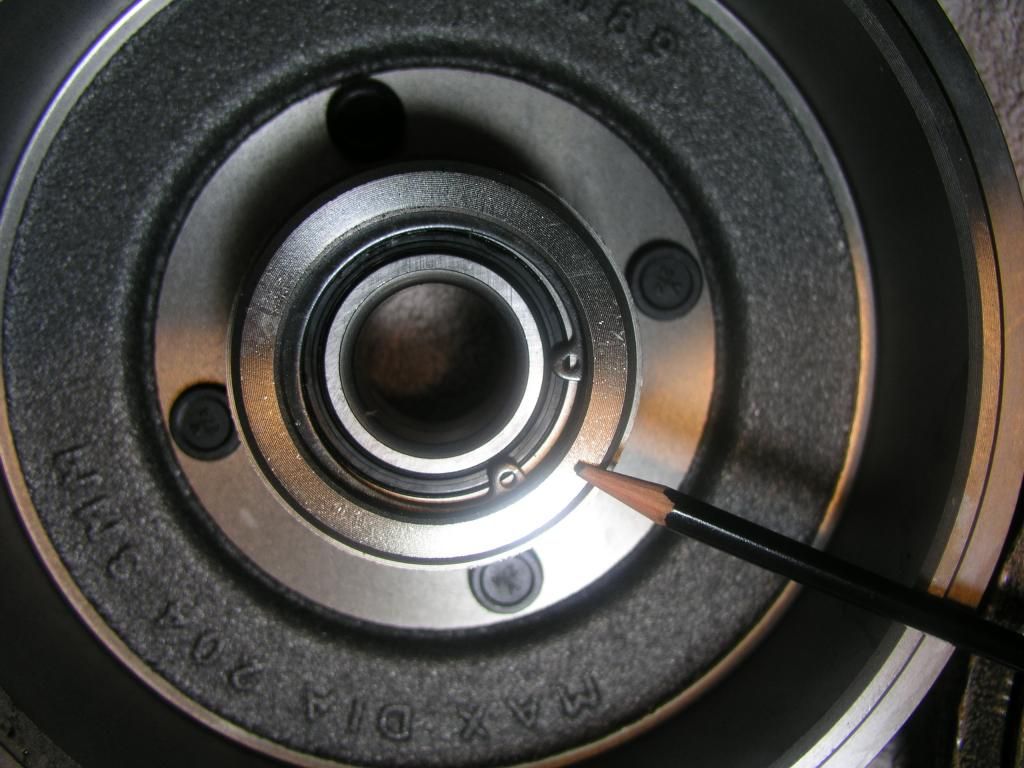 With the help of a friend, I was able to pry off the old Tone Ring. The tone ring did not pry up slowly, it snapped/jumped off in one quick motion. I installed the old tone ring on the new drum without any sealant, just press fit, using my body weight and stepping on it, and a rubber mallet too (covered the tone ring with a towel and piece of wood first).
During reassembly, the drum BARELY fit back on. I had the auto adjuster fully relaxed, and still the drum barely fit on. Once on, the brake pads were lightly touching the drum and when spinning the drum I could hear (and feel) that the pads were lightly touching the drum! Once the tire was back on, I spun the wheel and could hear those pads touching the drum. After one day of driving, I checked it again, and the pads were still (very lightly) touching; but not enough to cause any braking effect. The pads and springs are reassembled correctly, so that leaves the brake cylinder (or auto adjuster) to be the only thing left that could be causing the pads to ride too close to the drum… right?
I am still not sure that the wheel bearing failed first or at all. I never heard or felt any symptom of a bad wheel bearing. The bearing might have been good (and I busted it up when removing the drum?) and this entire episode was a brake system failure all along (??) Furthermore, if the brake pads are in fact still running too close to the drum, I may still have a problem and another failure is looming…
Thanks for reading. Any feedback is much appreciated.
If anyone is interested in learning more about wheel bearing issues and replacement, you can search and find many threads and a "how-to" like this one->
Rear Wheel Bearing Replacement --> How-to
Found that thread recently when I needed to learn what an ABS Tone Ring is.