the older ford focuses have alignment issues. the factory specs were incorrect. apparently there is a newer set of specs to be used. I've had two different mechanics explain this to me. it is the cause of the "cupping", and ultimately the reason why I replace my tires yearly.
I brought my car to a garage today that was recommended to me because they know how to properly align the tires on the older focus. when I got there I was assured by the mechanics that they do indeed know how to properly align it and they thoroughly explained to me about the specs, etc.
So the mechanic goes to do the alignment and one of the rear control arm adjuster bolts just breaks off! it was seriously totally seized (it appears as if no one has taken it off in years and I had another mechanic elsewhere this afternoon confirm he believes that as well) and that previous shops had obviously just taken our money and said they aligned it but hadnt. The guy could tell that someone previously had broken the nut on the bolt and had tried heating the bolt up with a torch to loosen it in the past. so yeah... bolt is broken clean off. the head of the bolt with the nut in his hand, the rest of the bolt seized up inside the bushing in the control arm.
so you think "need new bolts and bushings". great. except apparently you can't get those particular bushings any more - you have to buy an entirely new control arm. the mechanic called around to all of his suppliers and they all had the same info - not in stock, can get it overnight, but cost over $200 per control arm. wow. suddenly once you consider labour and a couple control arms, my 2005 focus is going to cost close to $1000.00! (after I've already spend $700 this summer in various repairs).
I told the mechanic we will see if we can source the parts elsewhere and get back to him.
So I looked online at the autopartswarehouse and another similar site. the parts that say they are the rear control arm for 2005 focus look nothing like the control arms I need to replace. any idea where to buy these things? Should I be calling them something different when looking for the parts? I thought they were "rear lower control arms" but I see nothing online referring to lower control arms in the rear. I'd call around to stores but I'm afraid I'm going to ask for the wrong thing since what I see online doesn't look like the arms on my car. maybe what i'm calling the control arms are actually called something else?
pic under my car:
Here's one link that says rear control arm for 2005 focus:
http://www.autopartswarehouse.com/sk...MEMS40125.html
Here's another that says rear control arm for 2005 focus:
http://www.autopartswarehouse.com/sk...MEMS76109.html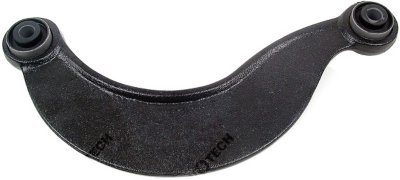 UPDATE ADDITION:
is this the control arm I need for my 2005 ZX5?
http://www.rockauto.com/dbphp/x,cata...H_MS40153.html
I see this on Amazon and ebay for well under $100.00 plus shipping. for real? half the price that local stores have it? is this really it? can I just buy MS40153 where-ever?
ALSO, I see on Amazon that there is a rear bushing kit 6-307-bl, does this include the bushing I need that aren't really generally available any more?
http://www.amazon.com/Prothane-6-307...YC/ref=lh_ni_t
If I ordered that and paid for quick shipping, does that solve my problems?