Well between vacation and the wrong parts I got somewhat delayed, but I have made some progress. I made this chart to help me understand all of the changes, hopefully it is right: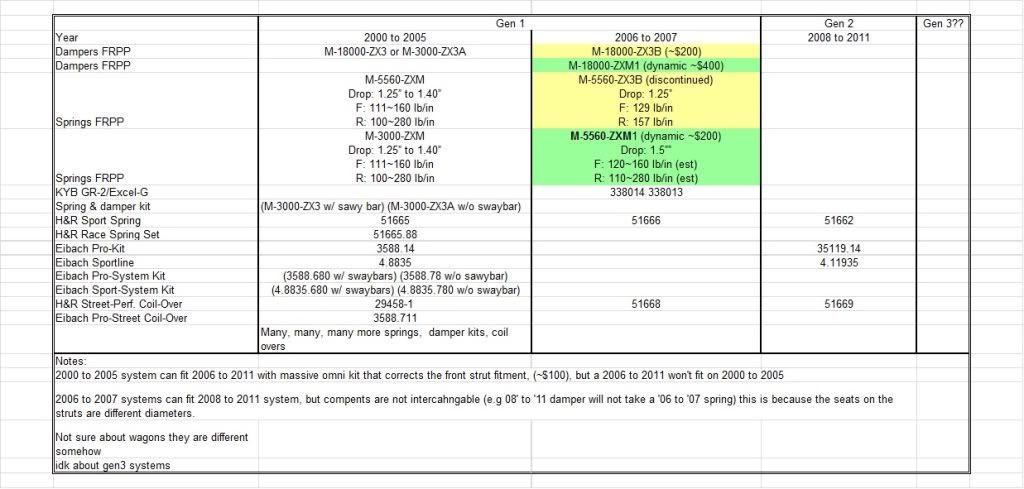 I returned the H&R springs (08' to 11') and went and got Ford M-5560-ZXM1 (06' to 07') racing springs they are actually meant to go with a different damper set (see image). The HR springs have "tight" or small coils on both ends and the Ford has a tight wrap on one end and a large wrap on the other.
Day 1
Worked put in the brakes, no big issue. I then took a crack at the front sway bar. The swaybar bushing bolts were seized. All I had was some hand tools and an impact. I was able to fit the hand tools in, but could not get enough leverage. I went through the top of the engine 3/8" impact, with the longest extension bar, and a swivel but still could not get it. I was unprepared for the amount for rust and seized bolts. Shelved for another day and moved on to the next item.
I then started on the struts, overall pretty typical. Put the springs and dampers together, but it did not fit in the steering knuckle, the strut diameter was too small relative to the knuckle diameter. Turns out I was sent a "M-18000-ZX3" kit and not a "M-18000-ZX3-B" . So I put the old strut back in, dissembled the new one and got the correct dampers sent.
Day 2
Sway bar: Gave it some PB blaster (did nothing). I then dropped the subframe as far as the power steering lines would let me. This gave me enough hand tool access / leverage. The subframe has access holes on the bottom, I lit up my torch and heated up the nut and was able to break the bolts free. This burnt up the bushings, but I had new poly's anyway. I also put the front struts in.
I then moved to the rear. The rear sway bar came off with an impact in less than 10 min, but the rear pinch bolt that holds the lower control arm only came part of the way out. So, now I'm stuck I can burn the bushing out and press in ploy's, use an air hammer to "push" the bolt out, but risk damaging the bushing, or get new lower control arms.
This is where I need some input. I hear that the Focus has "passive" rear steering. How does it work? Any options on the rear control arm? I don't think I want to go poly on a single part of the suspension. Also, my driver side trailing arm bushing is squeaking, I was going to ignore it, but it will only get more difficult with time. Again, keep the rubber or go poly?