After finding out that Rear Disc Brake Conversion Kits were no longer available I decided to search for used parts.
Actually, I was surprised there are still some out there but I can tell you, it was not easy to find them.
I've been told and found that the one key part that is no longer in production is the bracket that goes between
the spindle and caliper, usually called the "Caliper Bracket." Steve at Tousley Ford had some good info on the
availability of the other parts and had very helpful information overall.
I located a set of SVT brackets with PN 2M5Z-2B582-AA, so I have the parts to put together my own set-up.
During the search I located another set of brackets, but my question is "What are they from?" since the guy who
sold them only said he thought they were off a Focus- but the price was right and I got them anyways.
Here's some pics:
outboard side of bracket covered by caliper, markings show "C176"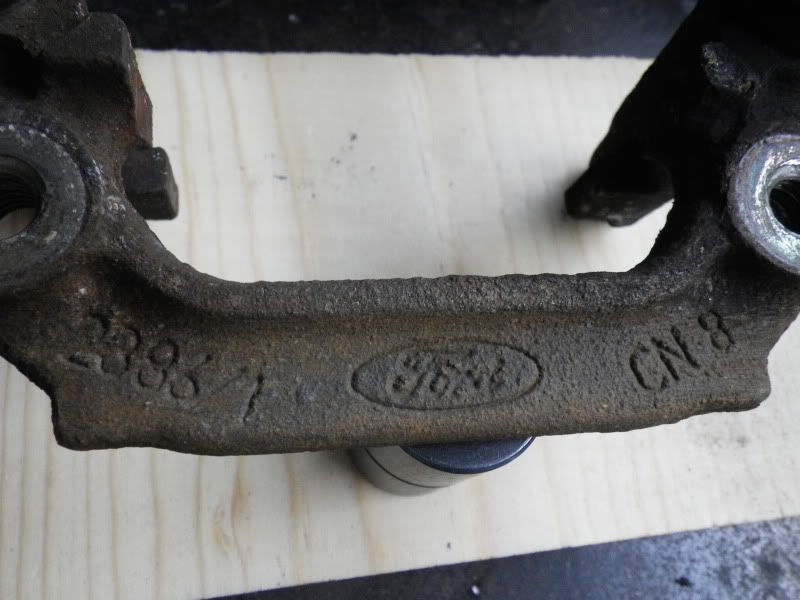 inboard side of bracket, markings show "2383m" "Ford" "CN 8"
I understand that there are at least 2 sizes of rear discs, 260mm and 280mm that were available from Ford for
the 2000-2004 Focus.
Anybody know what these brackets came off of?
*Also, I want to mention that Mazda had a "very similar" rear disc set-up and came standard with rear discs, so there
are many more available IF they interchange.
Thanks in advance,
George
2003 ZTW, 2.3L, auto, soon to be 300/280 SVT discs...