well, I blew out a rear control arm bushing, so it was time to replace. Ford, in its infinite wisdom, does not sell replacement bushings, you have to buy the entire control arm as the bushings are integral.
So, instead of buying a 55$ control arm (the little dogbone linkage) and wondering when the next one will die, I spent 120$ and can upgrade all of them. This process was quite a bit easier than doing the front poly bushings and the rear trailing arm bushing.
I got the prothane kit 6-307-BL from C-F-M.
replacement bolts are from Ford *w500744*s439
PS ignore the Moog tie rod ends, I happend to pick them up at the same time.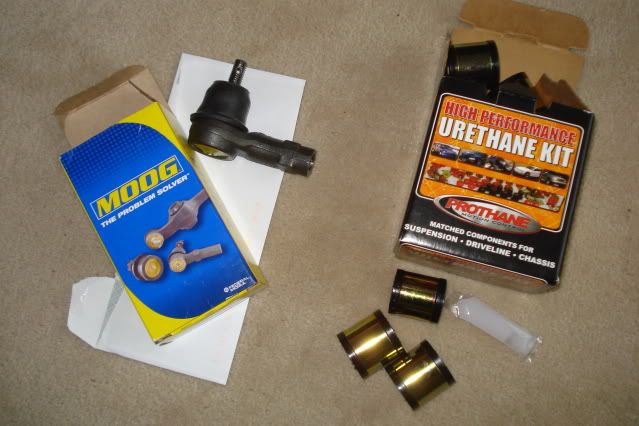 this would also be a good time to intall a camber bolt or swap to a new camber arm. see this thread
http://www.focusfanatics.com/forum/s...37#post2745037
Tools required:
-hydraulic press
-15mm socket and rachet
-PB blaster
-jack and jack stands
-breaker bar
-lots of extensions
-impact gun(optional)
-air hammer (optional)
-angle grinder (maybe)
tip: like a week before you begin, it would be wise to start penetrating the bolts with the PB blaster.
tip: have a spare vehicle ready to run to the parts store to get new bolts when you find have to cut your old ones out (they're metric. 12mm wide, ~60mm long, grade 10.8) i got mine from Ford for 3$
step 1.
Jack up the rear of the car. support the car with jack stands. i put them ahead of the wheel on the frame rail. alternatly u can put 2 close together on the rear subframe (but that is where i jacked from)
step 2.
remove wheels
step 3
use the PB blaster 1 more time. if you have an air hammer, use it to vibrate the end of the bolt to try and break the corrosion free.
step 4
using your breaker bar and 15mm socket, break loose the bolts. for some of the upper bolts you might need a long extension and you can use your breaker/rachet from behind the fuel tank.
step 5
using your rachet or impact try to remove the bolts. if you are lucky they will come right out. if not proceed to step 5a
step 5a
back out the bolt as much as you can before it totally binds up. get out your angle grinder and a fresh wheel (a sawzall could work, but its too slow and difficult, they are hardened bolts after all. believe me i tried). Cut through the bushing and bolt near the edge on both sides. dont damage the control arm, however you dont need to reuse the cylindrical metal bushing shell, so feel free to cut it. carefull, everything will be hot after this. the tough part might be getting the tip of the bolt that is still partly threaded in. you're on your own for that, but u could always cut the spot weld on the nut and work on it on your bench or use a vise etc.
step 6
dismantle your new bushings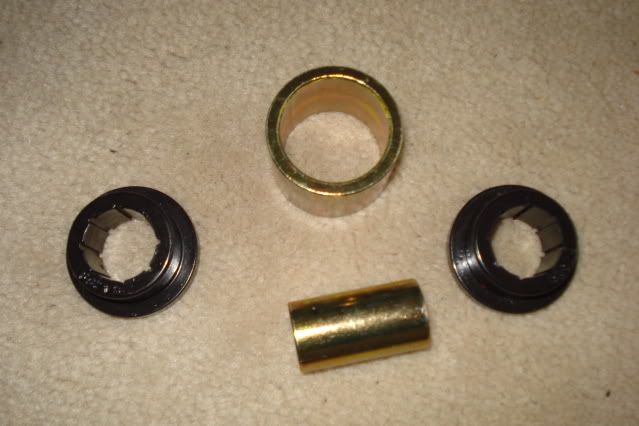 step 7
once your bolts are out, take all your control arms to your hydraulic press and press out the old bushing including the outer metal shell. if you are good, you can press out the old with the new shell, killing 2 birds with 1 stone.
step 8
lube up all the parts. press in the poly parts first by hand, then press in the inner cylinder by hand.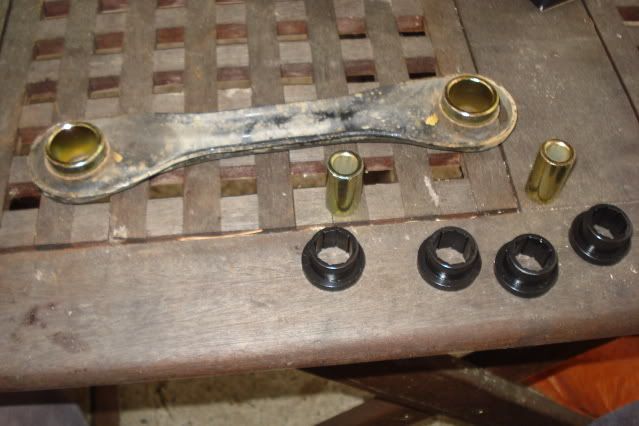 step 9
ready for reinstallation. sometimes to get stuff to line up, i jack up the trailing arm so things weren't at such an extreme angle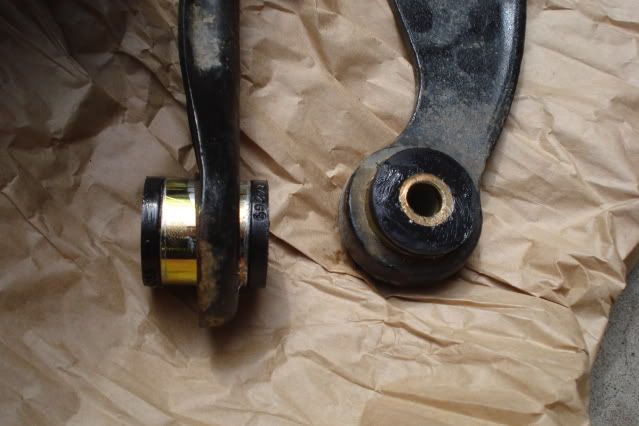 step 10
tighten it up. torque specs for the rear suspension are below
Rear:
Upper shock nut (sedan, hatch) - 13 lb-ft
Upper shock nut (wagon) - 85 lb-ft
Lower shock bolt - 66 lb-ft
Upper control arm (inner) - 76-85 lb-ft
Upper control arm (outer, cam adjustment bolt) - 55 lb-ft
Spindle/hub retaining bolt - 49 lb-ft
Trailing arm pivot bracket bolts - 85 lb-ft
Lower control arm (inside) - 111 lb-ft
Sway bar end links - 11-15 lb-ft
Sway bar clamps - 35 lb-ft
step 11
put on the wheels, lower the jack and you are done. stand back and admire.