If you want oversteer, try increasing the rear spring rate relative to the front--swaybars are meant to be the 'icing on the cake' in a suspension setup, not the batter.
IMO anything bigger than a 24-25mm on any street driven Focus is dangerous--twofold.
One--The LCA of the Focus is not designed to handle the forces generated by a HUGE swaybar. There have been MANY document LCA failures on cars with bigger-than-stock RSBs. Can you imagine what would happen if it failed in a corner while at speed? The problem only worsens when the BRSB is used in conjunction with softish street springs--
and anything softer than H&R Race springs is soft.
Period. The big bar takes all of the compliance out of the nifty suspension that the Ford engineers designed. Why'd you want to do that???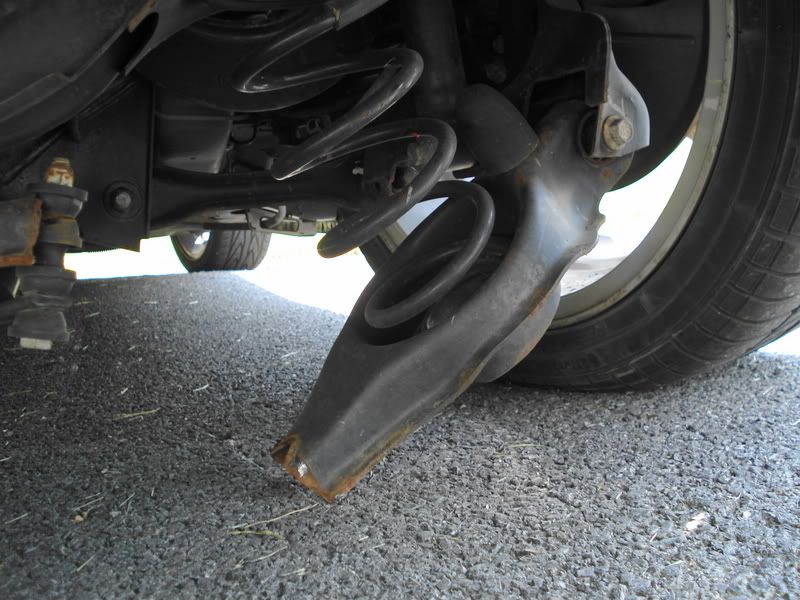 It can happen with a stock bar...it has happened more on cars with BIG RSBs than on those w/o...but this was a good photo.
Eibach Bar.
Another Eibach
Second Danger--Snap oversteer. In an evasive manouver, especially in the wet, losing control of a car with this bar is a
real
possibility. What are the consequences of that?
I am a 40 year old father of two...and I would pray that this situation won't happen and end up hurting an innocent bystander because some "oops-now-I'm-in-over-my-head" boy-racer with more money than brains goes out and buys parts like this and slaps it on his car without thinking about how
it effects the whole dynamics of his suspension
. It is Major to say the least.
I have a lot of background in Focus swaybars (Look up "Auto-X-ZTS swaybar" on FJ if you dont believe). I have an SCCA license, I have won roadraces and have autocross 1sts in many cars, including a STS Focus. Please understand that this advice is coming from someone who has 'been around the block' when it comes to performance cars.