Finally, something for you folks.
Here's a vid from the same event (Top Gun / MT Challenge 3) that
ZenRanger94
was at.
2010 Autocross vid Thread
1st run on the 1st day.
Cold driver.
Cold tires.
Cold track.
Cranked up rear shocks.
WOOOOOOO!!!!! at 0:52 into the vid.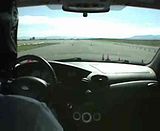 By far my worst run of the weekend, but amazingly enough it wasn't
that
bad of a time compared to my best for the day.
This run was a 1:41 and change, and my best for day 1 was a 1:37.878.
In retrospect, I did what I always do.
That is, I tell myself I'm going to take it easy on the 1st run and get a "feel" for the course.
Yeah, right....as soon as I leave the line that thought is long gone every time!!
I'll have some more vids (with less sliding) to post when I get some time.
Enjoy this one for now.
And, GLU...check out the shuffle technique (hands) in some of the tighter sections.
We can talk about it till we're blue in the face, but a pic (or video in this case) is worth a thousand words.
-------------------------
Oh...video comment...
WTF on the quality?
Is it PhotoBucket (compressing the video) or something else?
The vid looks WAY better on my computer.

Is YouTube better quality, or do I just need to upload a larger file?
(The video I uploaded is 5mb)