WHOOOOOOOOOOOOOOOO! <--- event was this much fun.
setup:
- new Direzza Z1 Star Specs. ~300 mi of breakin
- Hawk street pads. 100 mi of regular driving, 2 sets of bedding in.
- ~41 psi all around
So I don't have video for the morning session. I didn't have a good showing, I don't think. I could never get my rhythm. One walk and then I was off. I felt like I pushed too hard in the beginning and didn't really know any of the lines right. My instructor was there pointing stuff out, but it wasn't gelling for some reason. I resolved to start out smooth and slow for the afternoon.
In the afternoon, goon rb26dett95 showed up. I was expecting him in the morning, but he was away for army training and ran in still in fatigues and boots. So apparently dude is active reserves for an Airborne Division. What a badass.
He rode with me in the first half and then managed to get clearance to run in the 2nd half. So he was my defacto instructor. And a bit less negative than my morning guy. It must help that he also has an SVT Focus.
The afternoon course was looser and easier, and a ton of fun, with top speeds pushing 60 (you can see the speedo and tach in the videos, when not blocked by my hands or the wheel). On to the videos then. The asterisked runs are the ones worth looking at. There's chatter after some of the runs between me and rb26dett.
run1:
http://www.youtube.com/watch?v=b1NKEJDI1cc
my first outting in the afternoon. Not very fast, since I didn't get to walk the course, and only drove through it caravan style.
run2*:
http://www.youtube.com/watch?v=6Iv1oTzFWmY
going at 75% or so. This is actually run3, with run2 not being recorded. I remembered you can turn traction control off, and the dynamics of the car are very much improved. I was sooooo pissed I missed out on this for the morning run. The slalom was much easier for 2 reasons: cones were wider out, and the TC wasn't fighting to keep my rear end in line. Having the extra rotation help with turning in a lot. Thanks for rbdett for pointing this out.
run3:
http://www.youtube.com/watch?v=e0qukefTF3g
still driving pretty slow. I could be going faster on the back straight.
run4:
http://www.youtube.com/watch?v=KaySgXzd_sQ
still improving from the last run, but not quite there yet.
run5*:
http://www.youtube.com/watch?v=nLqDkuYcXt4
hit a cone on the back slalom, and really overcooked the turnaround. A really fun lap though.
run6*:
http://www.youtube.com/watch?v=TjnR1AkX9uU
had to include a clip of the Cobra ahead of me. He was pretty good, maybe top 5 of the drivers out there.
This run had really good lines, imo. A slight mismatch going into the back straight. The big right sweeper was awesome, with me feeling like the car was leaning 45 degrees. On the back slalom, it looks like I stomp a cone, but I don't remember hitting it.
run7*:
http://www.youtube.com/watch?v=rEcrM37xH_M
roughly as good as 6. It was a little smoother on the 2nd half, but then I messed up the finish.
initial post mortem:
- fun
- need to remember to turn off TC
- smooth smooth smoother
- avoid trail braking for now -- I'm neither good enough with brake nor throttle control
- I think for the first time, I know why this car has a reputation for its handling and tossability. It's a shame I can't really turn off TC below 20mph, but that's not so bad.
RARR the blood of my enemies is stained on my armor:
You can see the outline of the cone!
My car Gus:
A fellow SVTF driver's ride: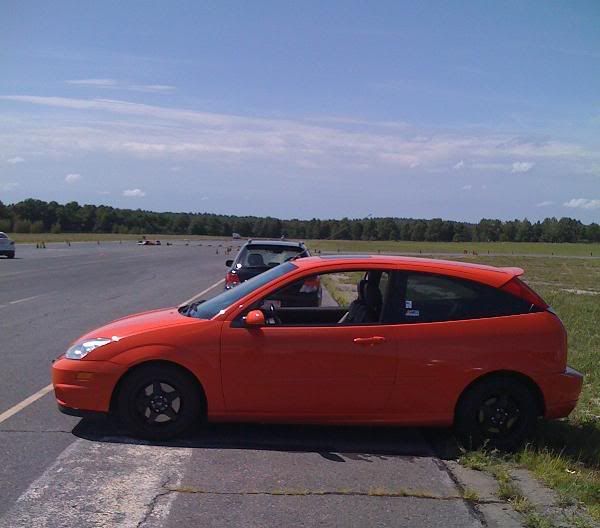 Him caught in the act of tipping a cone: