first off, i'll tell the
FML
story. i work at a place with a driveway that is a bit steep on parts of it. if you take it at the wrong angle or too fast, you could bottom out / scrape parts of your car. i was a bit late one day and yup... i took the driveway at the wrong angle and too fast; i heard a scrape and shuddered.
as soon as i parked, i got out and looked for damage but at the time i couldn't find anything as my car was a bit dirty from the rain we just had. a few days later, while detailing... i saw the damage i caused. it wasn't too bad or too noticeable unless you DID notice it and pointed it out. but i saw it and it would forever bug me unless i fixed it.
i had a couple of solutions:
1. take it to ford, bend over, have them ream me, wait while they fix it... and attempt to walk out with some dignity.
2. purchase the touch-up pen and try my luck with that.
3. try some touch-up paint i've seen online.
option 1 was def. out the window.
option 2, i thought about. i did research on the ford touch-up paint pen for my car's color. the dreaded white platinum tri-coat metallic (paint code "UG" - probably for the sound you make when you find out your paint's been damaged). after going to some edge forums, i found out that the pen is garbage and not worth the $$$$.
last option, option 3. from having my mustang and hearing what some of my friends used on their scrapes, scratches, and chips from the road... i decided to try this: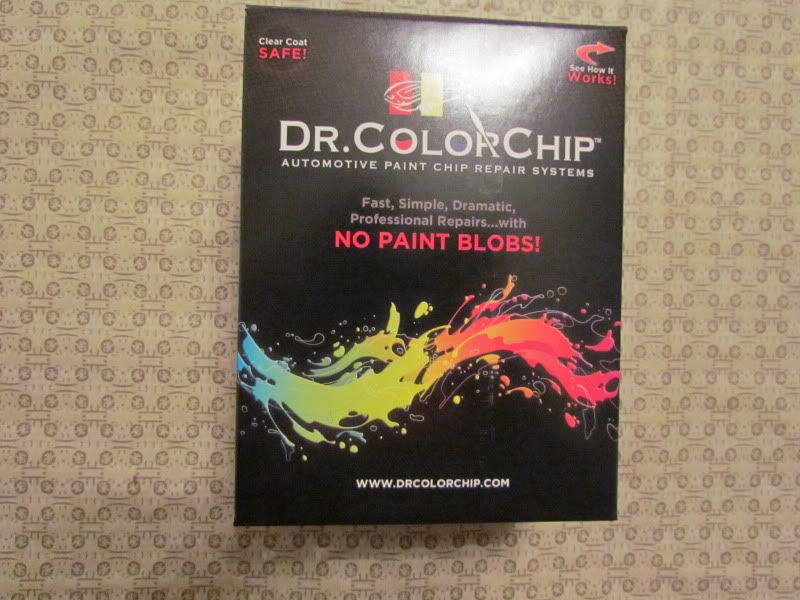 dr. colorchip; you can find it here:
http://www.drcolorchip.com/
as far as how to use it, here's the video(s) from youtube and the steps i followed:
when i got the package and opened the box i found a typed up note inside which said something like... due to my paint being tri-coat, it's VERY hard to match with touch up paint. the way the factory used a base coat, mid coat, and top coat; touch-up paints have difficulty matching it and blending. the note then continued and said they sent me the BEST possible match.
you can imagine my
when i read that note.
i was thinking my repair would look like i just used white-out. but, i already had the product... my damage was in an area not too noticeable... if it looked like garbage, at least it wouldn't be on the middle of my hood. so on with me trying to fix it. first, the picture of my damage:
as i said, the damage wasn't TOO bad and i circled / enlarged / boxed the damage in the pictures. but if you pointed it out.. it'd be clear it was there and always noticeable; even more so if you're the owner and KNOW it's there.
how did it turn out? did my fear of having white-out on my bumper come to fruition? you guys judge: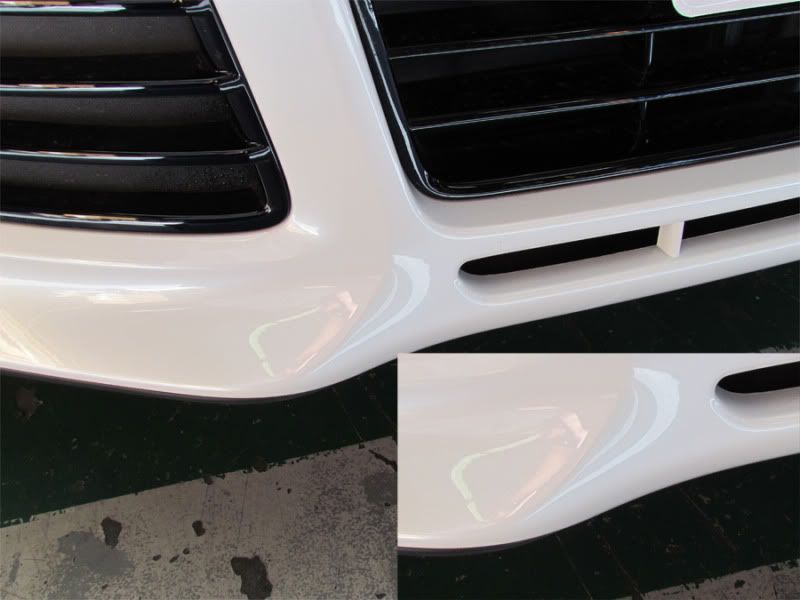 as far as i'm concerned, the match was FLAWLESS. for having warned me that the match would be hard, i couldn't tell the scratches were ever there. i had my boss look at my bumper and asked if he could tell where my damage was and he couldn't find it; neither could one of my coworkers.
i'm VERY pleased with this product and HIGHLY recommend it to ANYONE. i have a tri-coat / metallic paint and the match was beautiful. while i'll still hate getting minor damage, i know i have something to fix it down the road.
i got the $59 kit and BARELY used any of it. there's way more than enough to last me a million more scratches like i had, but i'd prefer to NOT have to use it anymore.
hope this review and pictures help people out there wondering about what they could buy / use to fix small scratches here and there. took the plunge, got dr. colorchip based on friends' reviews of it, and could not be happier.
p.s.
YES it passed the sun test. indoors, it's hard to tell if the touch-up was good. normally, in the sun... you can REALLY tell if it's good or not. even in the sun, the match was perfect.